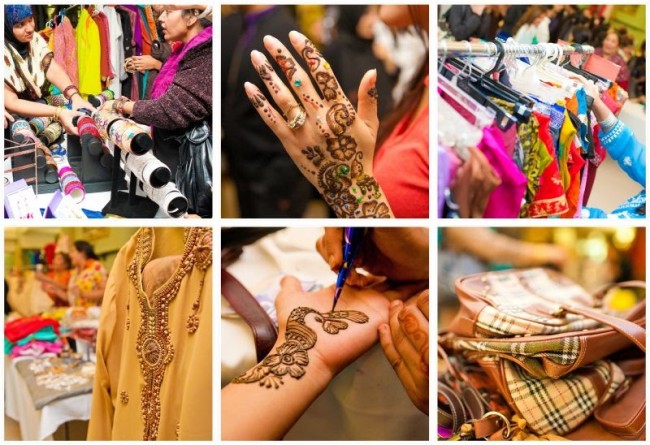 In Pakistan this festival is usually called as "Choti Eid" or "Meethi Eid" because lots of sweet desserts are to be made on this festival. It is celebrated for 3 days but its preparations get started before the month of Ramdan and continued throughout the month of Ramdan. As the days passes out the preparations of Eid goes on it peak even on the last day before Eid (which is called "Chand Raat" people rush into the malls for their remaining or final shopping.
It is customary for almost everyone to wear new dress on Eid so the shopping of garments is ever more popular during the month of Ramadan. During month of Ramadan the bazaars are decorated to welcome Eid shoppers, special sale prices are offered by shop keepers on garments and shoes. Men usually prefer to get ready made kurta shalwars but women and girls gets really choosy and prefer to buy unstitched piece of cloth and give to tailors to stitch them as they want it to be as some wants to embellish them with different motifs, stones, pearls, thread work, ribbons, laces etc to make their suit more attractive and color full.
But battle doesn't end when one give cloths to tailor, it actually starts because some time there are fitting issue, date issue and design issue. During all this process the risk of little change by tailors are so common in Pakistan as tailors face so much rush on these days and they get confused and in hurry some hanky panky is to be done unintentionally from their side with cloths (it is another beauty of this Eid and little side of fun too). For those who can't afford this combat, they prefer to buy stitch clothes from different shops with various designs.
After the purchasing of cloths the turn of selecting shoes comes. For guys and men pair of sandals or shoes is enough but for ladies the big and hectic shopping is still on its way…matching jewelry, matching shoes, bags, bangals, hair accessories, matching nail polishes and lipsticks etc. They spent most of their time in just matching and contrasting of things with their cloths. And this is not the end young girls buy three suits and their matching shoes, jewelry, accessories for each day of Eid holidays.
The part which I like the most is shopping of bangals and henna. Although you can buy them during the month of Ramadan but especially the night when the moon is sighted, the beauty of this activity gets increase. Women and girls in huge numbers throng the special bangle stalls and shops as soon as the Shawwal moon is sighted. Some ladies and girls also goes to salons and parlors for advance booking for facial, meni cure, pedi cure, hair cutting, threading, waxing, bleaching, heena, especial Eid makeup for any evening function or get together etc.
This is just one side of Eid preparations before or during the month of Ramdan. The other side which is mostly fixing with house wives is to maintain, clean and decorate their homes to welcome guests. Mostly people renovate their houses; they do paint their walls, change thei r interiors, change their house's curtains, change their furniture especially of drawing room, change their dining's covers and mats, add some new show pieces, put some extra lighting pieces, buy some new crockery etc. For the food section some frozen item are to be done by house wives during month of Ramdan like shami kabab, seekh kabab, meethi ghujias, samosas etc. Fashion photography is a field of photography that is dedicated to showing off fashion objects and clothing. More specifically, fashion photography is typically taken for commercial magazines like Vanity Fair, Vogue, Elle, or Glamour. Fashion photographers must also have a strong sense of creativity and understanding of color and how it affects human emotion. Though it may seem easy to look through a camera and take fashion photos, doing so without the proper knowledge of what makes a fashion photo "good" will result in photos that do not please the viewer.
What else remain? I think I share all the preparations and fun happening things during Eid preparation before the great day comes. I am sure the people who live abroad surely miss the shopping of Eid in Pakistan. But by reading this article they can memorize their days they spent here. Isn't it? Have lovely Eid to you all.