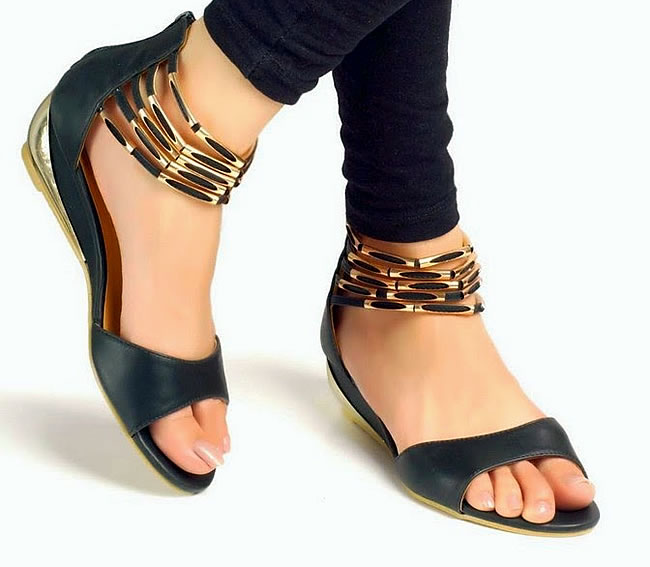 With Eid around the corner shopping fever is on an all time high. Especially for women, who along with the perfect outfit are looking to accessorize it with that elegant pair of shoes.  Here are some of the top shoe trends for Eid.
1. Bling it on:
Nothing says festive like a pair of high-heeled, blingy diamante heels or flats. Perfectly paired with outfits in bold solids or your chikan kari  kurtas.
2. Metallica:
For a more subdued look with a touch of fabulousness a metallic heel is the perfect answer. For those wearing a modern designer Eid outfit this is the ultimate pairing.
3. Pretty Pearls:
Fresh and feminine, pearls in your feet are gorgeous. Wear with your designer lawns and turn heads wherever you go looking pretty.
4. Flirty Florals:
Make a statement with your shoes with a floral heel and pair with an elegant outfit in neutrals or pastels.
5. Lovely Lace:
Embrace your feminine side with lovely lace heels and pair it with an outfit that has a hint of lace too!
6. Gold Rush:
Gold is like neutral on Eid and gold heels are the perfect way to accessorize any Eid outfit you choose.
7. Sultry Stilettos:
Nothing spells confidence than a pair of sultry stilettos on a well manicured pair of feet. A black pair is always a great choice.
8. Dainty Embroidery:
Hand-embroidered heels are the ultimate indulgence for the woman who appreciates craft and are best worn with your delicately embroidered outfits.
To enjoy New Eid Show Collections, head out to famous shoe outlets including Insignia Shoes, Stylo shoes, ECS, Marie Clarie and Metro for your perfect pair. Happy Shopping!