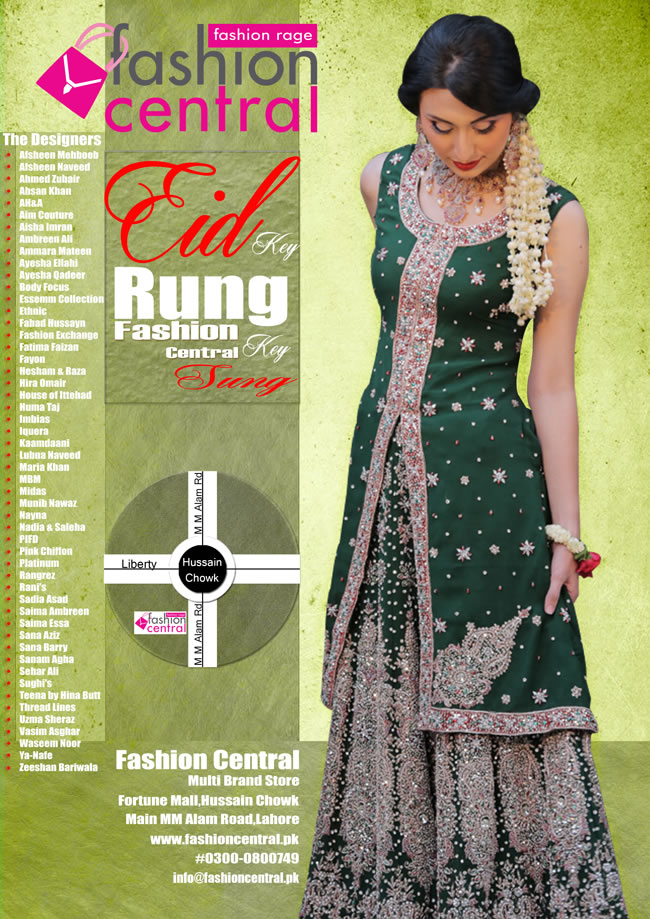 The Fashion Central Multi Brand store located at M.M.Alam Road,Lahore (near Hussain Chowk and above Butlers Cafe) is a superb purpose-built facility in terms of shopping environment and diversity of designer product range. A total of 50 top designers have stocked their original creations at this Multi Brand Outlet and this makes the customer feel fulfilled and amply at ease with regard to trendy choice and immersive shopping experience.
For the shopping enthusiasts of Lahore the location is perfect and driving to this place is most convenient. As for the keen ones from places like Gujranwala, Sialkot and even Faisalabad, a visit to the Fashion Central Multi Brand Store will be worth a visit as they will find everything to their taste and the experience of Eid Buying a memorable one. For them facilitation will be maximum and the team at the store will absolutely be at their beck and call and mind you  the men are going to fall for the collections offered.
With regard to diversity of the designer product range, lets share with you that it includes designer labels from Karachi, Islamabad, Lahore and India. And designers like  Afsheen Mehboob, Ahsan Khan, Aisha Imran, Annoushay & Fatima, Ayesha Elahi, Ayesha-Somaya, Banni' D, Blend, Buckle Up, Dhaagay by Madiha, Emran Rajput, Ethnic by Farhat, Fahad Hussayn, Hajra Hayat, Hira Omair, Huma Taj Couture, Imbias, PIFD, Madiha Ibrar, Maria Khan, MBM, Mirat Ul Uroos, Monica Paracha, Munib Nawaz, Nabeel & Aqeel, Nayna, Pink Chiffon, Ruby Bhandari, Sammy K, Sana Barry, Sanam Agha, Sara Salman, Shibori, Shireen Lakdawala, Sughi's & Uzma Sheraz, Yadou and Tina by Hina Butt are all there.
Enjoy the shopping moments and keep coming for all your needs.