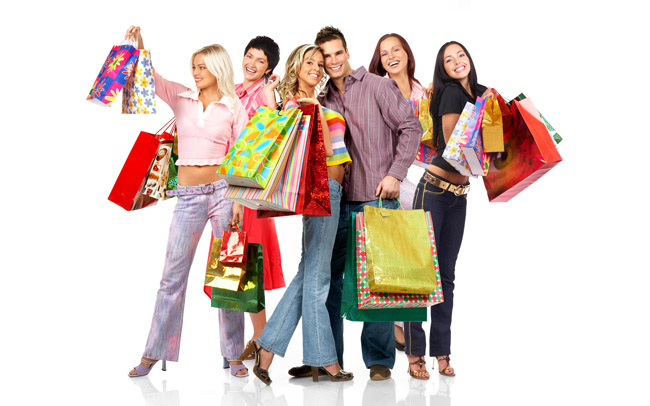 Lets find out the most common shopping questions that all of us go through.
How much does this dress cost?
Possible answers:
Its three pounds ninety nine. £3.99

Twenty dollars. $20

Kindly share the Product URL, I'll go and find out for you.
Do you have this dress available in a larger/smaller size?
   Possible answers:
Depends upon designer. Let me ask the designer if your size can be made on order

Yes, we do. If you wait a moment I'll go and get it for you.

I'm sorry; we have this in "Standard- Medium" Size.
What are the payment methods available to pay for this?
   Possible answers:
Yes you can pay via credit card
You may pay cash via western union, net banking, paypal and payza.
Can you give me a discount?
Possible answers:
The best I can do is to make it 10% cheaper.

What is your price range?

Upon the purchase of $200, u will be given a discount coupon.
What are your service timings?
Possible answers:
We are open 5 days a week from 9:30 am till 6:30 pm.
What is your returns policy?
Yes you may return the product for replacement/refund within 7 days after receiving it.

Please call Fashion Central customer service and ask for return.

Let us know the reason of returning a product/item

The product must be unused and should be in the original condition in which it was purchased.

Items that have been used will not be accepted as returns or exchanges.

Items which have any stains, emit body odors or perfume scents, have any kind of marks, damages or water stains will not be accepted for returns or exchanges.

We will send a replacement item in exchange OR We will issue you a refund coupon once the items reach our warehouse

You can use that coupon to order the same item in a different size or order any other item that you like.
For more information about our returns policy or to know how you can return or exchange a product, please click on the following link: http://shopping.fashioncentral.pk/content/6-return-policy
How do I remove an item from my shopping cart?
Click the "remove/ cross icon" in front of that product from your cart. You may also change the quantity of items to "0" (zero) to remove the item from your shopping cart.
It is safe to give you my credit card number over the Internet?
Yes, read about Fashion Central web site security here. However, if you are still uncomfortable providing your credit card information over the Internet – no problem. Simply submit your request via email without any payment information to: customerservice@fashioncentral.pk , and we will contact you to make arrangements for payment.
Can I place multiple items in one order?
Yes, you can order multiple items in one order from the different fashion designers
Where are you located and what is your contact information?
We are located at
Address: Fortune Mall, 20-A, Block C-3, Hussain Chowk, MM Alam Road, Lahore 54600
Phone: 0300 0800743
Hours: 10:30 am – 11:00 pm, 6 days a week
For our online shop:
Visit Website: http://shopping.fashioncentral.pk/
+92-(0)300-0800743
Skype: fashion.central
WhatsApp: 0092-300-0800743
Is there a weight limit?
Since we ship by courier, DHL international and TCS, there is technically no weight limit. However, we recommend that the boxes can at least be carried or handled by two (2) people, for the safety of your boxes.
How do I execute shopping at your website?
There are two types of orders to be placed:
 ONLINE SHOP orders – Ordering through http://shopping.fashioncentral.pk/
Via Email:  You can send us the product queries by mentioning product URL and our customer sales representatives will get back to you promptly.
We Order and Ship For You – (Online Shopping)
Login to your Fashion Central Online Shopping account Choose the dress you want to purchase.
Press Buy Now button to make a purchase.
It will show you complete product details including product Name, Description, Availability, Unit Price, Qyt and Total Price.
Then press the button " Place Order"
It will then give you 3 options:
Create an Account

Already Registered User

Instant Check Out
After making a choice amongst the 3, this will further confirm you the product as well as billing
Address confirmation.
The shipping method will be asked
After selecting the payment method, you may confirm your order
Wait for Confirmation

A customer representative will contact you through phone or email to verify and confirm your orders.

You will then receive an email notification that informs you of the order that has been approved for ordering.
Depending upon the location, the order will be delivered.