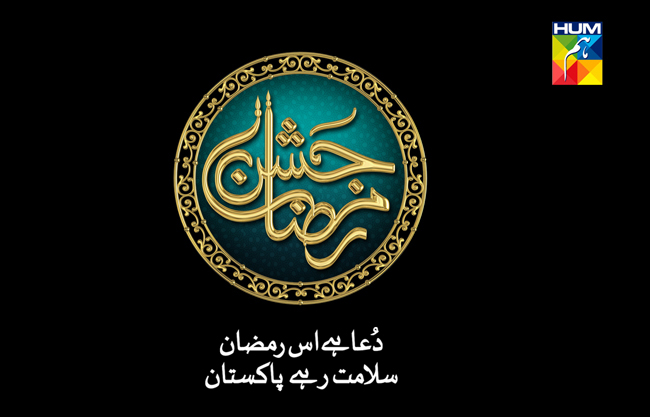 Committed to bringing the best and outstanding content to its viewers, Pakistan's leading entertainment network, HUM Network brings Jashan-e-Ramazan transmission 2014 with the theme "Dua Hai Is Ramazan – Salamat Rahay Pakistan". Aired on HUM TV, Jashan-e-Ramazan transmission offers a variety of different programmes including Sehri and Iftaar special programmes, cooking segments, quiz segments, a special segment dedicated to the true heroes of Pakistan, discussion with prominent scholars and personalities and Ramazan special plays.
Starting from 1st Ramazan, Sehr transmission will be aired from 2:30 am to 5:00 am. Hosted by Junaid Iqbal, the transmission will provide viewers with an opportunity to interact directly with religious scholars and ask them any question they have regarding the holy month of Ramazan. Viewers will also get a chance to see leading naat khwaans performing live in HUM TV's Sehr transmission. HUM TV's Iftaar transmission will be aired from 3:00 pm to 7:30 pm. For the first time viewers will see the actor extraordinaire Ahsan Khan, providing the much needed change in the current and orthodox stream of hosts on other channels, and hosting the iftar shows live.
The special segments in the live iftar transmission include Pakwan, The viewers will learn different recipes in the live cooking show segment. Baat Cheet will feature prominent personalities and religious scholars from different sects and covers a variety of subjects. Renowned names like Mufti Usman, Dr Mubashir Usman, Bilquis Edhi, Hina Bayat, Zeba Bakhtiar, Oriya Maqbool, Dr Fazal Ahmed, Baba Yayah, Dr Sabiha Qadri and Mualana Asad Thanvi will be seen answering the queries of viewers in this segment. The Quiz segment will keep the audiences engaged and give them opportunities to win exciting gifts. A special segment Salamat Rahay Pakistan will highlight the achievements of the real heroes of Pakistan. From army personnel to civilians, this segment will engage people who have played a role in the development of this nation. HUM TV's Ramazan transmission will also feature two special plays Mein Na Manu Haar and Dhool Bajne laga.