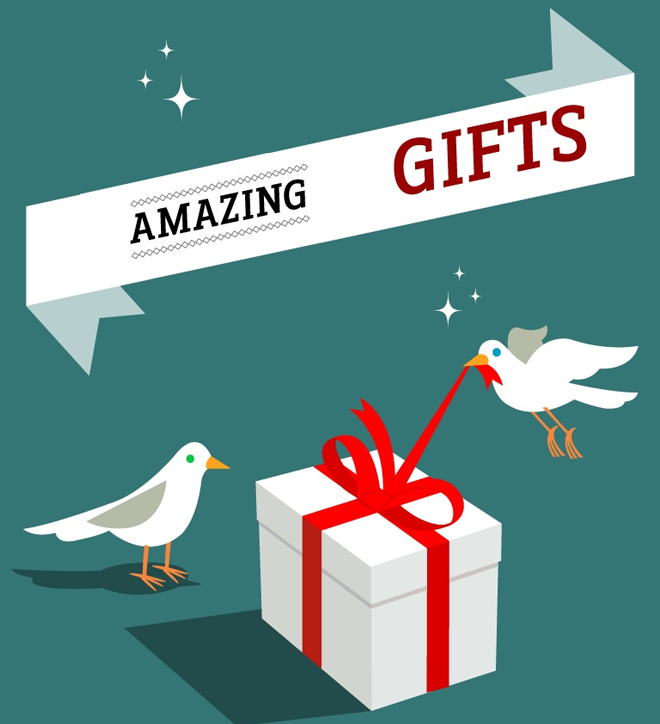 There is a no particular time to present gift to your loved ones. Most important is to give sincere compliments, but some tangible gifts will make your loved one to remember the moment forever.
Calibre Men's SC-4B1 04 007 Buffalo Stainless Steel and Black Leather Watch: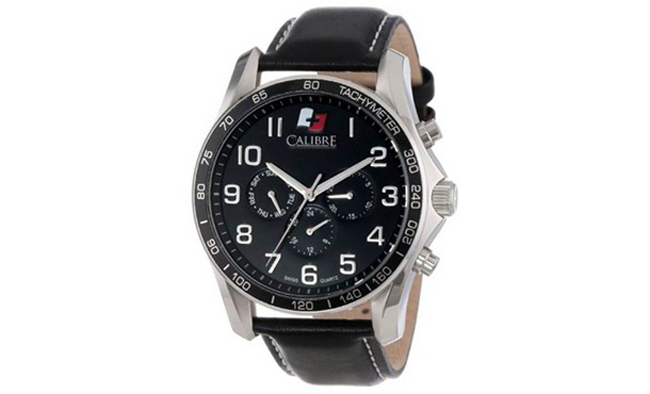 This black leather watch by Calibre features a band made of calf skin. It has white stitching and Japanese Quartz movement as well as a protective mineral crystal dial window featuring a bezel plated with aluminum. This watch also has a tachymeter, minute track and hands that glow in the dark.
Deluxe 6 in 1 Stainless Steel Pedicure and Manicure Set: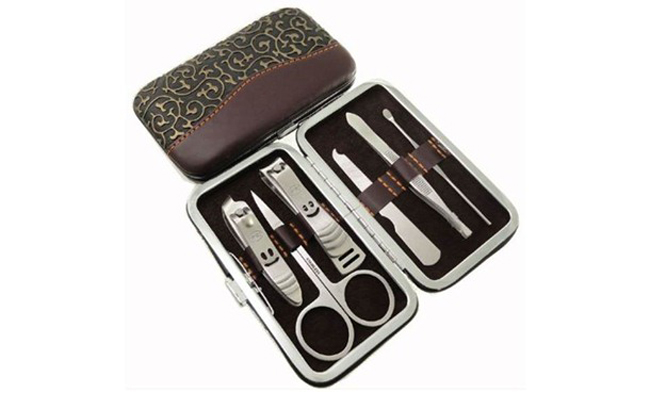 This pedicure and manicure set is perfect for traveling. It includes six pieces of manicure set as well as manicure tools that are handcrafted and made of surgical quality stainless steel. This is an ideal gift for women this Valentine's because it also comes with a fashionable wallet.
LORAC PRO Palette:
Ideal for women, this professional palette features 16 eye shadows that are not only ultra-pigmented but are also infused with soothing botanicals. This palette comes with mini Behind the Scenes Eye Primer and is very practical to use because it can be used wet or dry. It is also formulated without harmful chemicals so it is great for the skin.
BoldLoft "Catch My Love" His and Hers Coffee Mugs:

Made of stoneware ceramic, these couple mugs are microwavable and are perfect for couples. They feature two contrasting black and white stick figures of lovers and form a love message when put together.
Inspirationz Store Typography Best Girlfriend Ever Drawing Book: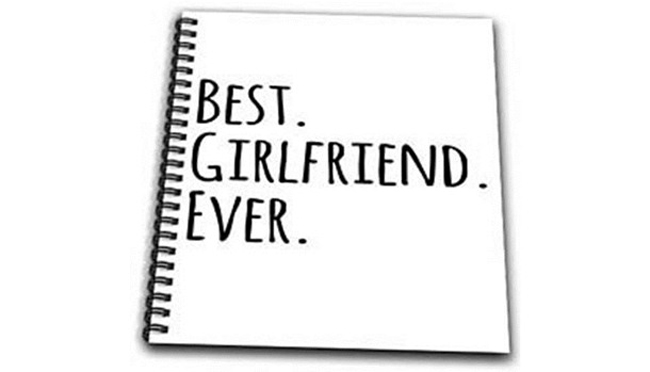 For boyfriends who have artistically-inclined girlfriends, this drawing book makes the best gift for Valentine's. Made by Inspirations Store, this drawing book is an 8 x 8 inch spiral bound and hard covered book that is bound by twin loop wire spines and has 50 pages.
Melissa & Doug Bead Set: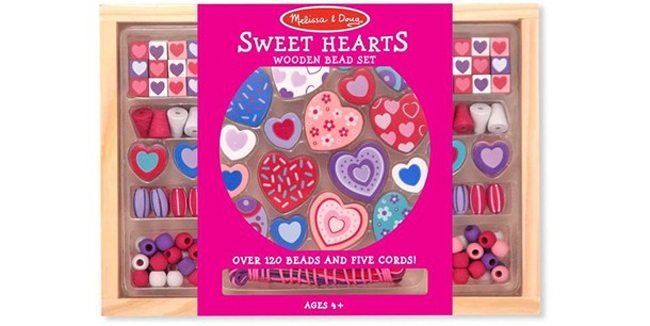 This bead set by Melissa & Doug contains a variety of wooden beads that can be used for arts and crafts, particularly in designing jewelry. The beads are not only wooden but are also flower-themed and come with five color-coordinated cords. This set is perfect for designing, patterning and stringing activities.
Gift Boxed Sterling Silver Kissing Giraffes Charm Heart Jewelry: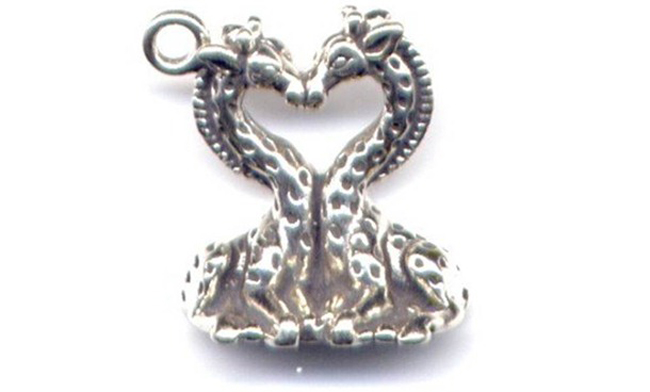 An ideal Valentine's gift for women, this Sterling silver is finely detailed and includes a jump ring. It measures 5/8 x 7/8, is three-dimensional and comes with a cotton-filled glossy black paper gift box. This jewelry can be used as a pendant to an elegant necklace.
Quaint Sterling Silver Necklace and Cubic Zirconia Heart Pendant Charm: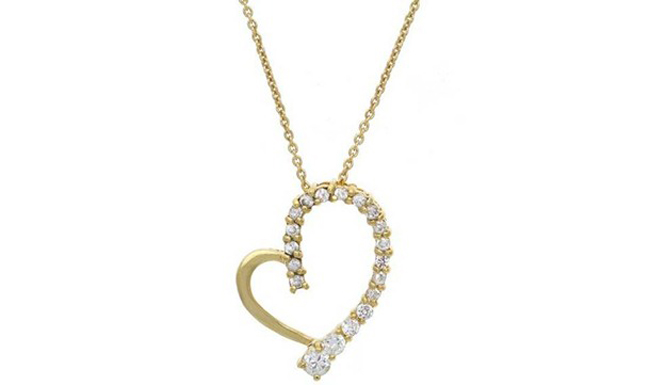 This quaint Sterling silver necklace comes with a Cubic Zirconia heart pendant that has a gold overlay. A perfect Valentine's gift for women, it boasts of its superior sparkle and the luminous glow coming from its slender heart pendant, as well as its large dazzling stones.
Guitar Pick "I Pick You" Keychain: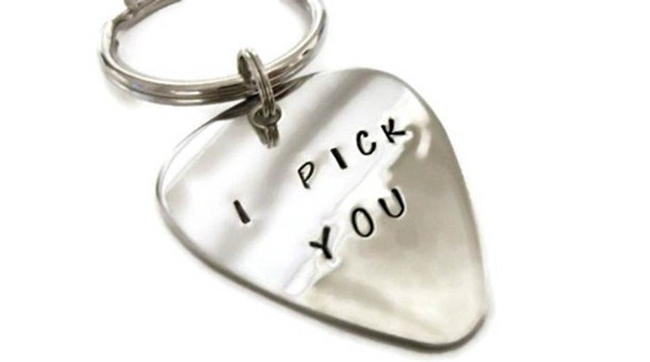 This keychain is perfect for boyfriends or husbands who love playing the guitar. It comes in a guitar pick shape and has an inscription that says "I pick you." Made of 100% stainless steel, this keychain is especially handcrafted in the United States and is shipped in a small gift box.
Como Love Heart Pair Alloy Keychain Keyring: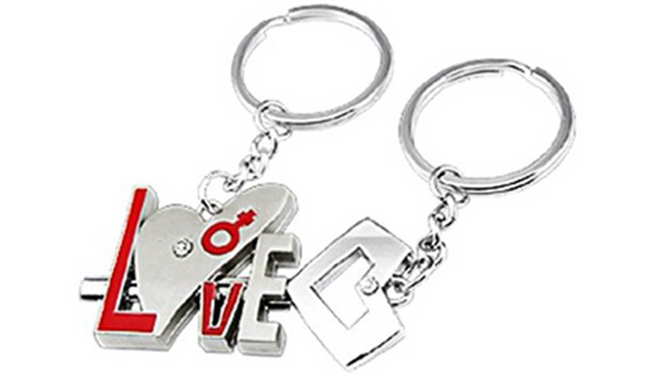 This alloy love keyring comes in a set of two pieces and can make the perfect gift for couples this Valentine season. The chain is 10.5 x 7.6 centimeters long and includes a ring that measures 3 centimeters in diameter. It is very cute and interesting because the heart with a hold can be inserted by another arrow-like pendant.