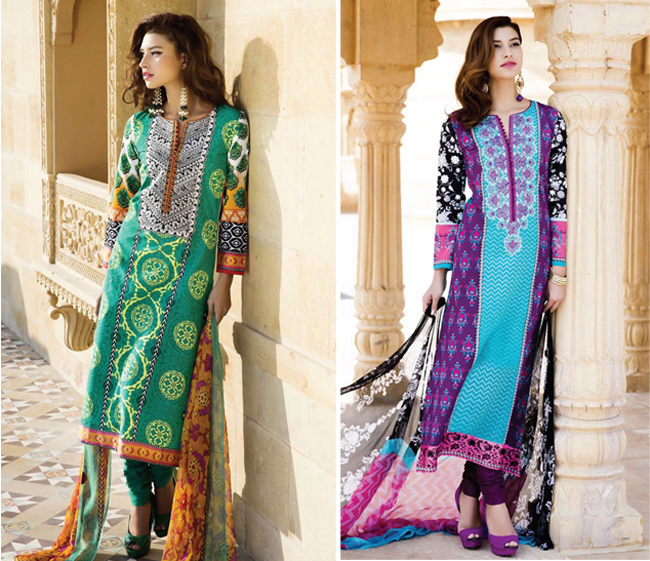 Following the success of MARIA.B. Lawn in Pakistan, one of the country's biggest designer retailers', MARIA.B., becomes the first Pakistani designer brand to design and retail a collection of lawn specifically for India.Titled Astitva, the new collection is available at all leading retail stores in India nationwide through the brand's Indian partner Sahiba Ltd.
Custom-designed for Indian consumers and lawn enthusiasts, Astitva features 12 diverse designs based in a distinctive tribal and boho-chic aesthetic. Taking inspiration from chunri, the collection features ikkat, cross stitch bohemia and motifs such as gypsy roses, all in a dynamic palette based in both bright colors and fresh pastels that are traditionally associated with Indian summer fashion. Indeed, the collection is printed on 80*80 Lawn with crinkle dupattas, embellished with sequins, cross-stitch, rosettes and pulsar style embroideries.

Speaking about the launch of Astitva, Maria Butt, CEO MARIA.B.said, "Given the similarities in our history, culture and tradition, India has always been an ideal market for Pakistani fashion. At MARIA.B.we had always been cognizant of the potential of the Indian retail market and in addition to participating in different Indian fashion shows and exhibitions we had previously introduced a limited edition Pashmina collection in India to marked success. Earlier this year we also launched a limited edition lawn collection featuring Arabi lawn in India which too proved very successful and paved the way for Astitva; with this collection we have created lawn designs specifically for Indian consumers based on our own research and market insights gleaned by our Indian partners Sahiba Ltd. So far the collection has been well received and consumer feedback has been very encouraging! We hope to continue the trend of creating collections specifically tailored for regional and international markets and look forward to sharing the complete MARIA.B. experience with our patrons located outside of Pakistan."
MARIA.B. is Pakistan's most diverse designer fashion brand with pret a porter, couture, formal wear, lawn, embroidered fabrics and cottons all within one affordable label. MARIA. B. also has one of Pakistan's most extensive retail networks with over 25 standalone outlets in 12 different cities across the country, while also exporting to 6 international destinations including UK, USA, Bangladesh, UAE, Qatar and India.