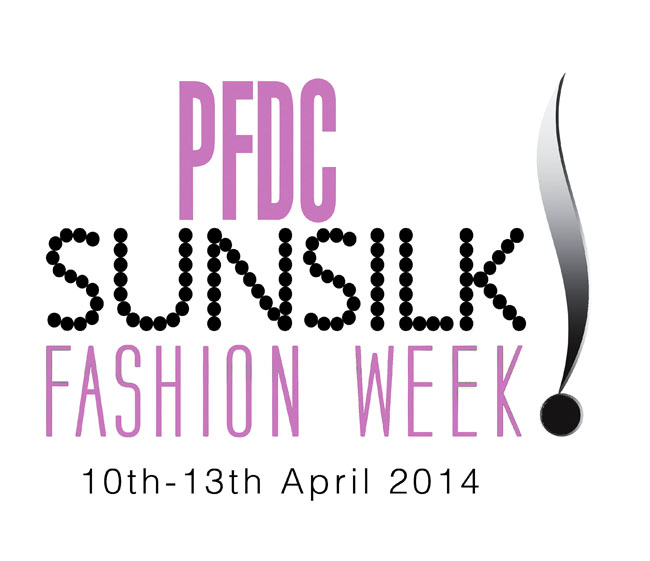 The 7th edition of the PFDC Sunsilk Fashion Week 2014 (PSFW) successfully combined prêt, couture and high-end street lines and showcased the established ones as well as new emerging talent. This represented a continuity of the efforts of PFDC to provide platform for designers of excellence and at the same time satiate the urges and needs of the social elite.
Everything about the extravaganza was brilliant made more vibrant by the experts of the fashion business like HSY Events, Nabeela and NGENTS and Lotus PR. The success of 4 days PFDC Sunsilk Fashion Week was made possible by the deliberate contribution and hard work of none other than Selina Rashid's, Lotus Client Management & PR. She and her efficient team managed the event brilliantly. A significant contribution appeared in the shape of introduction of 5 young emerging talented designers in association with their banking partner, Bank Alfalah.
Sara Shahid of 'Sublime by Sara' was the official spokesperson for the PFDC. The logistics and operations handled by Eleventh Retail and photography by Faisal Farooqui. The team effort and synergy remained consistent for all 4 days of PFDC and surely qualifies to be appreciated. All days at PFDC Sunsilk Fashion Week were attended by enthusiastic audience who were chic, eager and reflected a hunger for the big occasion. At the Red Carpet, visible were beautiful faces bedecked in the latest wear reflecting the choicest of creations.
Sehyr Saigal – Heart & Soul of PFDC:
Sehyr Saigol, chairperson of the executive committee of the PFDC worked her fingers to the bone in bringing all of us this mega event consecutively for the 7th time. On this auspicious occasion she said "We recognize that Pakistan's fashion industry is now a major player in contributing to the development journey of the country and we are delighted that our brand Sunsilk is a part of such a fantastic effort. The PFDC shifts gears, bringing the momentum inwards, recognizing the even greater need to work with brands to build market access and visibility within Pakistan. To this end we embrace an approach that focuses on building and institutionalizing the strength of designers and brands through national retail prowess and accessibility".
Fashion Shows:
In terms of new trends and fashion, PFDC has expanded its high-street and designer show platform where many of the acclaimed designers showcased their spring luxury prêt collections. Fashion models like Fouzia Aman, Amna Barbar, Sunita Marshel, Neha Ahmed, Nooray Bhatti, Sana Sarfaraz were simply awesome.
DAY 1 at PFDC Sunsilk FW 2014:
Day 1 ceremony opened with MK Nation by Karma showcased its spring-summer 2014 collection titled "Style Squad" whereas leading textile house ChenOne's collection exhiobited "The Darling Buds" collection with modern contemporary fabrics and silhouettes made with light breezy printed chiffons.
Ittehad Textiles collection "Neoterica" was inspired by a variety of cultures and it included menswear from their I-Man range. Mohsin Ali opened Act One of Day One with a collection that Frill and White with varied cuts gave an edge to the outfits paraded on the ramp by the gorgeous models some of whom were draped in yolk yellow.
Next show witnessed designer Nickie Nina's spring-summer 2014 collection "Katcha Taanka" and the designer took inspiration from gypsy women and circus performers with nomadic lifestyles. Lastly, Sania Maskatiya's fabulous collection in experimental cuts titled Kuamka was presented in which only pure fabrics cut and draped in a range of one silhouettes creating versatile looks across all their fashion lines.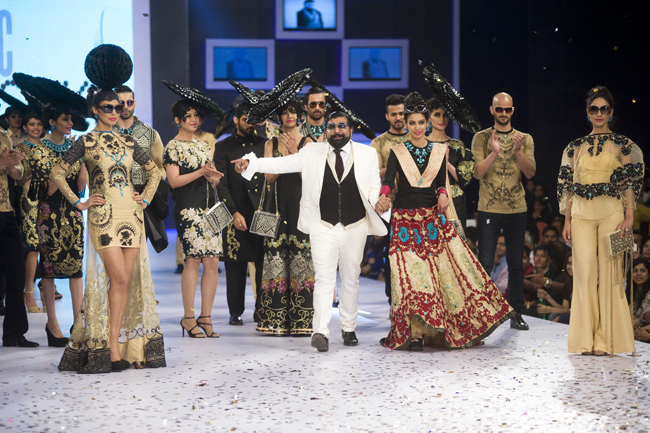 And in last but not the least Ali Xeeshan presented Luxury collection and the range was perfectly balanced on sleek, flattering, and classical silhouettes.
DAY 2 at PFDC Sunsilk FW 2014: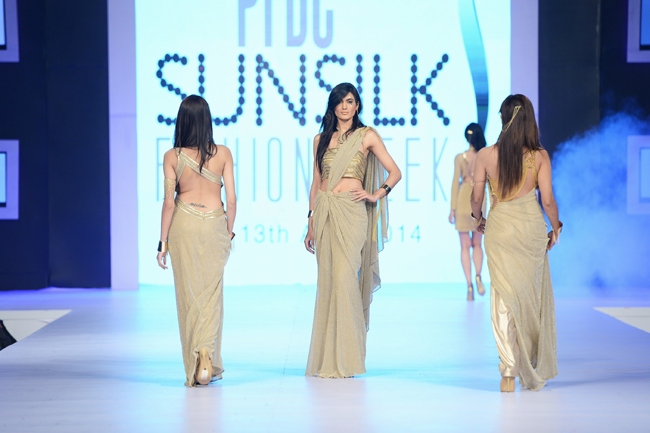 Day 2 Act 1 opened by the very famous Shehla Chatoor 'Samsara' collection in which the emphasize is on the confidence of Pakistani woman, as she re-invents herself and needs versatility in her wardrobe to dress for dinners, cocktails and red carpet events. The collection can best be worn on festive and celebrated events.
The next was Teena by Hina Butt collection titled 'Rukn-e-Alam: Pillars of the World' at PFDC Sunsilk Fashion Week 2014. Designs used were mainly inspired by Sufi mystic with theme colors as distinct blue with white pottery. Fabrics such as grip, chiffon, raw silk and organza.
Act 2, 1st Show brought Deepak Perwani Tre's Chic – Extension', a Spring/Summer 2014 collection inspired by the chic trendy woman who loves to dress up.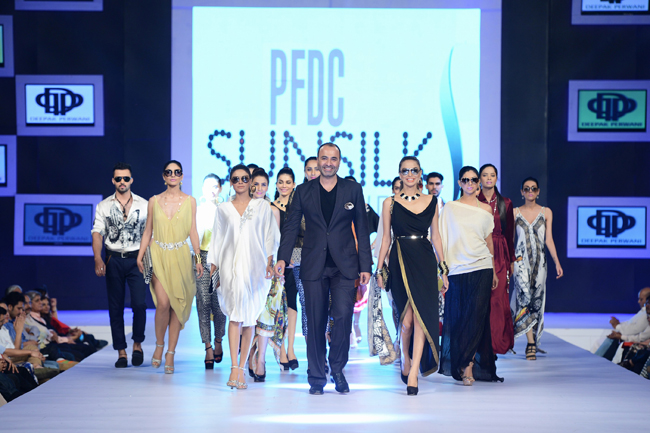 Next was luxury prêt brand MUSE, who introduced a new range of luxe fabrics which had never been used before in Pakistan. The Luxury Prêt a Porter collection titled 'Foiled Wrapped Candy'. The last show presented Élan Art Struck prêt collection which featured a series of bespoke fabrics, adorned with panoramic art scenes, splashes of paint on vintage maps, sequined cheese bites, bullets, lipsticks, polka dots, graffiti, tincture bottles and comic text.
DAY 3 at PFDC Sunsilk FW 2014: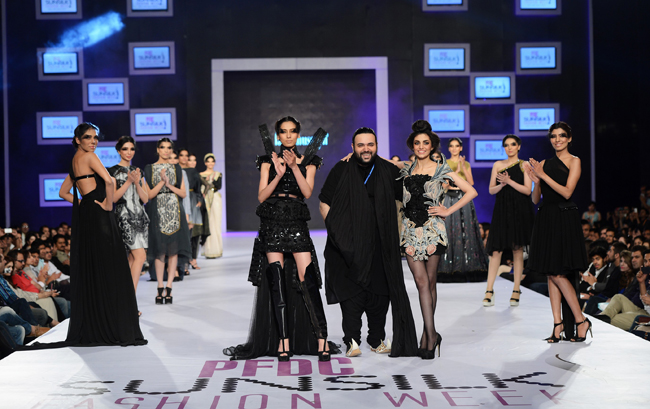 Day Three featured the High Street Fashion shows by Generation, Roodaba Omar, Bareeze Man and Gul Ahmed. In Designer Shows, Fahad Hussayn, and Republic by Omar Farooq, Body Focus Museum, Maria B., Nida Azwer and Karma Pink highlighted contemporary affordable ready-to-wear apparel.
Generation opened the High Street Fashion segment on Day 3 of PFDC Sunsilk Fashion Week 2014 with their debut PSFW collection titled 'Water on Ajrak'. Motivated by the traditional Sindhi Ajrak patterns and stressed the cultural artistic experimenting with sheer fabrics such as organza, nets, voile and crepe in shades like white, ecru, spearmint green, cherry blossom pink, champagne beige and indigo.
The next was Roodaba Omar with her 'Tehzib' collection inspired by the divinely mixed colours of Moroccan architecture, Islamic verses and historical buildings, Roodaba had based the collection in fabrics such as chiffon and silks, along with organza for its complete feel.
The third showcase was presented by Bareeze Man with Spring/Summer collection 'Introspection in the Country, and Other Dalliances'. Based in fabrics such as linen, leather, cotton and suede, the colour palette for the collection consisted of summer ready hues with solid loud colours including shades of green, cream and white.
The concluding High Street Fashion show of the day was showcased by premier textile house Gul Ahmed who exhibited the brand's 'Ethnic meets Contemporary' collection which was motivated from traditional folklore wrapped in high street vogue. 'Based in a colour palette of vibrant hues, the brand's showcase prominently featured cropped pants among other trendy separates.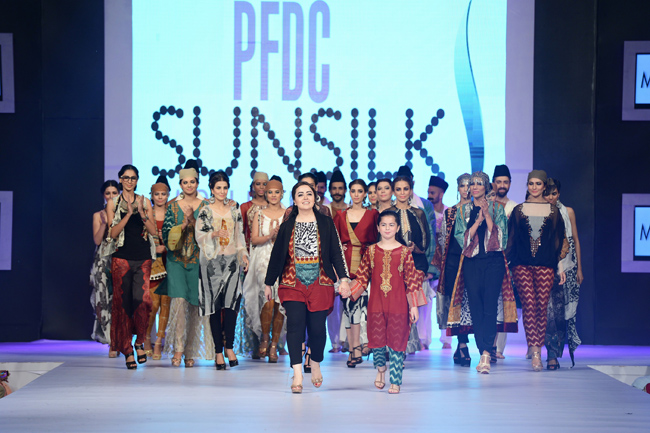 Day 3 at PFDC Sunsilk Fashion Week 2014 was opened by designer Fahad Hussayn who showcased a collection titled 'Kaala Pani'. The collection drew its roots from the way of life lived and its influence on a person, depicting life's true essence in exemplary style; beauty, romanticism and glamor.
The next was Republic by Omar Farooq who showcased a collection titled 'Back to the Roots'. The designer incorporated prints featuring the botanical palm, camouflage and raw minerals which were expressed in the collection's accessories in luxurious fabrics including cotton, linen, tropical wool and its various blends in a dynamic colour palette.
The final designer showcase of Act 1 was by Body Focus Museum who presented their Spring/Summer 2014 collection titled 'Sartorial Philology and Deconstruction'. Designer Iman Ahmed drew inspiration from the phrase "seeking perfection in imperfection" and had combined multicultural-influences while keeping the overall mood essentially contemporary.
The first show of Act 2 was presented by acclaimed designer brand Maria B. Who showcased luxury wear collection titled 'Ladakh Connection' inspired by the designer's search for her own identity in ancestral Kashmiri roots with an emphasis on interpreting vintage Kashmiri craft and silhouettes into a modern, wearable collection.
The next was acclaimed couturier Nida Azwer who showcased a new collection titled 'The Urban Jungle Collection'. For this collection, the designer was motivated by the majestic rain forest where exotic animals and birds can be found along with native forest flowers and foliage.
Day-3's finale was presented by designer label Karma Pink who presented their Spring/Summer 2014 collection titled 'Karma ki Rajasthani Kahani'. The collection derived its inspiration from the soul, spirit and sensuality of the Rajasthan desert. With vibrant intense colours compared with contemporary silhouettes the collection managed to capture the essence of luxuriant Rajasthani style.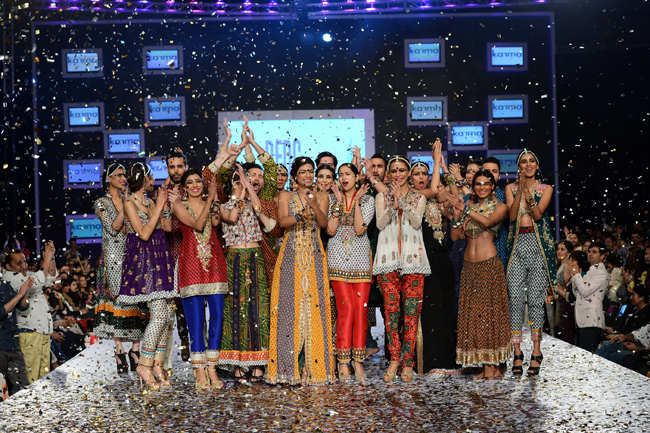 DAY 4 at PFDC Sunsilk FW 2014:
The Voile Show started by Five Star Textile Industries Spring/Summer2014 line. The collections titled Vogue, Divine, Classic and Larose. Their signature collection, Vogue, was based on digital prints, Divine comprised of festive prints, Classic collection based on signature classic prints whereas Larose was Five Star's standard category with floral prints and intricate design details.
After Five Star Textile Industries' presentation, Warda Prints with a Spring/Summer 2014 collection titled 'Glamorous Hattie's', a collection inspired by historical cultural significance whose designs originated from the Middle Age, the Renaissance, later European and Islamic cultures.
The third show was presented by Nimsay Redefining Style by Nimra Textile who showcased their Spring/Summer 2014 collection titled 'Flora', a collection inspired from different themes including Folk Artisan, Flora & Fauna and Graphic Monochrome with silk patches and chiffon dupatta with cuts which included short shirts with narrow bottom trousers.
The concluding Voile show of the day was showcased by Lakhany Silk Mills who presented their Spring/Summer 2014 collection. The 1st show of act 1 kicked off with Rizwan Beyg "Digitruck "collection which has played around with the base design and no doubt product longevity issues. The next was Zara Shahjehan who presented roach prints designs. Moreover,  Saira Shakira, PIFD graduate showed for the first time on the PFDC platform with a theme strongly borrowed by a deck of playing cards, the show opener and show reel supported the act of cigarette smoking, which one hopes was strongly indicative of the act of open rebellion against a suppressive society and not for the sake of mere rebellion.
The first show of Act 2 was presented by highly praised designer brand Khaadi Khaas with the collection inspired by the baroque era. Floral digital prints, embroidered ensembles in exaggerated silhouettes in net and lawn fabric portray the feeling of summer. Key trends highlighted were layers, lighter coats and jackets to dress up and dress down.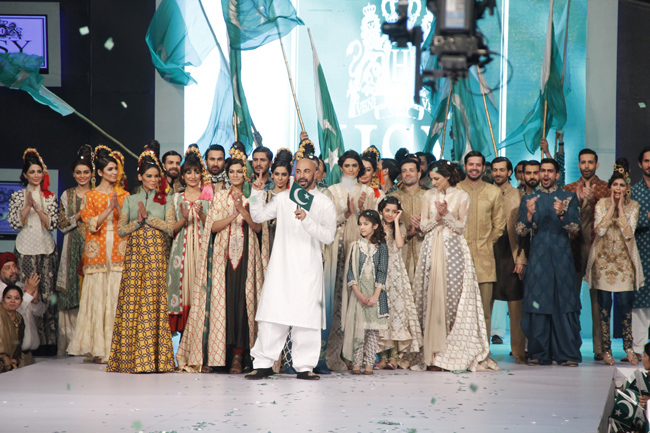 Following Khaadi Khaas, Akif Mahmood showcased Spring/Summer 2014 collection titled 'Matadora'. The designer drew inspiration from Spanish bull-fighters and their festoon with beautifully embellished costumes that represented Spanish culture and history. The final segment of Day 4 belonged to acclaimed couturier HSY. The collection titled 'Sher' totally supported women empowerment. HSY PFDC Collection featured both men's and women's wear. Fabrics were luxurious and included pure chiffons, silks, and georgettes complemented by embroideries in colour of wood, water, pure indigo, beiges, chili red and turmeric yellow. An outstanding touch was added through looser silhouettes plus varying options of short and long hemlines, indigenous embroideries, summer jackets and overalls.