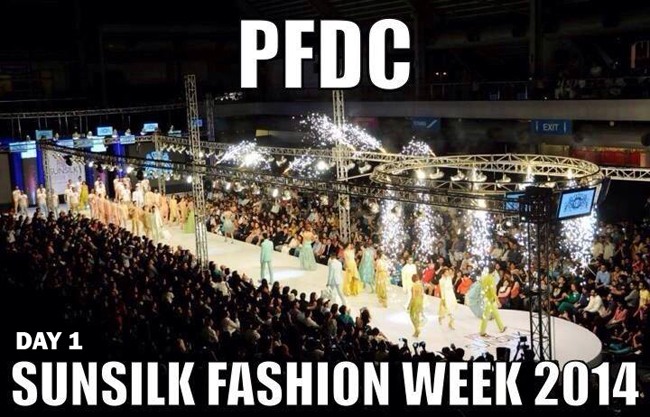 Lahore, April 11, the 7th consecutive edition of PFDC Sunsilk Fashion Week started Thursday and ethnic clothes with modern silhouettes, especially loose-fitted and classy attires, dominated the runway. The event is taking place at Expo Center from 4 pm onwards each day. All of the precious events have been very successful and were sparked by the many of known designer's prêt collection.
The opening ceremony opened with MK Nation by Karma, ChenOne Pareesa by Sahar Atif and Ittehad, the three brands started the fashion extravaganza. MK Nation by Karma showcased its spring-summer 2014 collection titled "Style Squad" whereas leading textile house ChenOne's collection was titled "The Darling Buds", which was purely an experiment of floral prints with modern contemporary fabrics and silhouettes made with light breezy printed chiffons. "Neoterica", which was Ittehad Textiles collection, was inspired by a variety of cultures and it included menswear from their I-Man range.
Next show witnessed designer Nickie Nina's spring-summer 2014 collection "Katcha Taanka" and the designer took inspiration from gypsy women and circus performers with nomadic lifestyles. The fabrics such as organza, satin and crepe de chine, silk Khaadi with embellishments in the form of cut-work. However, the most enthralling show of the day was of Ali Xeeshan's Theater Studio.
Moreover, Sania Maskatiya, Mohsin Ali for brand Libas, Bank Al Falah Rising Talent and the House of Arsalan Iqbal, were some of the names who grabbed eyeballs with their iconic prints, modern cuts and patterns. Many stage performances were given by Pakistani celebrities , interesting a tribute to silver screen rock stars were Titled "Trouble",  in which the clothes were about the charm and magic of the silver screen, particularly the characters from the 1960s and 1970s cinema and it had something for both men and women.
The media partners include Hum Network, Bank Alfalah, Fedex Express, Abbas Carpet, Pepsi, Magnum, Sunsilk Co Creations and many more. The PFDC Sunsilk Fashion Week 2014 is being styled by Nabila's and N-Gents, show production by HSY Events and media and PR management by Lotus.