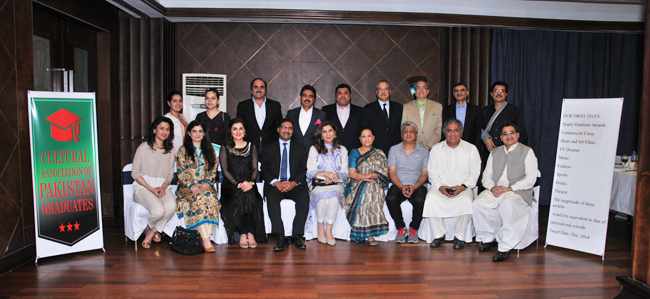 Front R: L to R: Maryam Soofi, Ambreen Zafar, Ayesha Sana, Ali Zafar, Aleena Shah, Samina Ahmed, Yousaf Sali, Usman Pirzada and Qasim Zia
Back R: L to R: Alyza Sultan, Meera Hashmi, Ramzan Sheikh, Saleem Ghauri, Rashid Mehr, Anjum Rafiq, Asad Ehsan, Shahid Hamid and Rashid Saeed
Cultural Association of Pakistan Graduates was launched by Mr Ali Zafar on the 1st April at Royal Palm Golf and Country Club. Present on the occasion were Yousaf Salahuddin, Mian Asad Ehsan, Saleem Ghauri, Rashid Mehr, Shahid Hameed, Omar Saeed, Aneela Shah, Samina Ahmed, Syed Ali Zafar and elite of the city.
Earlier this set up was known as the Graduate Awards and now under the new banner the objectives stand extended and include include revival of culture and heritage also, through this institution. Besides this the several other significant objectives include holding Graduate Awards annually,with the first one to be held by December 2014. Graduate Awards will cover films, short films, TV Drama's, Music, Fashion, Theater, Media and sports.
Another objective is to set up an Academy and Music recording studio, where fresh raw talent will go through apprenticeship programs in their respected fields like acting courses and dialogue delivery courses. Likewise in Fashion, improving and grooming courses and in Music writing lyrics, composing songs courses will be a part of the training activity.
Ali Zafar stated that the true power of culture cannot be underestimated at any cost, as culture defines a society and it is the soul and pulse of any society. We must take the ownership of our responsibility to preserve and promote our culture. Unless we stand together and make a genuine commitment to this goal, we will not be doing our duty as Pakistanis said the Chairman Syed Ali Zafar.