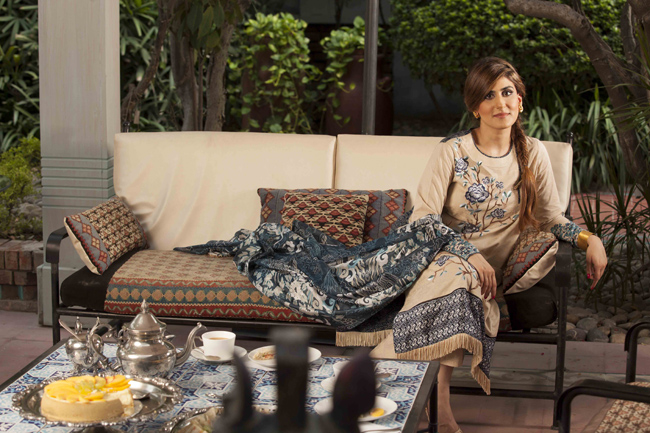 In celebration of premium lawn brand Mahnoush's five definitive years in lawn and fashion, entrepreneur and head designer at Mahnoush, Arjumand Amin, introduces The Anniversary Edition campaign, inspired by five modern, diverse and dynamic women in Pakistan, each of whom are symbolic of what Mahnoush represents over the course of its journey: quality, distinctiveness and beauty. The campaign will be revealed at the launch of Mahnoush Lawn this March and the collection itself will across Pakistan as of 25th March 2014 at select retailers.
The 5 incredible women being celebrated by Mahnoush are master couturier Bunto Kazmi, the fearless filmmaker Sharmeen Obaid Chinoy, artist extraordinaire Shahzia Sikander, dynamic social entrepreneur Roshaneh Zafar and leading athlete and sporting entrepreneur Naseem Hameed. Each of these 5 formidable women has been photographed by Abdullah Harris for a celebration campaign to be revealed in print and across social media in March itself.
Speaking about Mahnoush's 5 years celebration with 5 incredible women, CEO and Head Designer of Mahnoush, Arjumand Amin has said: "With our 5 year anniversary edition, I am honoured to be celebrating 5 unique women, each of whom has worked to change the landscape in which they operate.
Mahnoush is thrilled beyond measure to have the honour of celebrating Bunto Kazmi, the incredibly elegant and talented couturier. This self-effacing and media-shy personality creates not just beautiful clothes, but works of art, heirlooms to be passed on from one generation to the next. With intricate workmanship and motifs that ultimately save the best of our sartorial traditions for coming generations, she is a living legend. We are equally delighted to have Sharmeen Obaid Chinoy celebrated; she was an obvious choice for us.
She brought fame to the nation and attention to the thousands of women who are the victims of acid attacks in Pakistan with her documentary Saving Face in 2012, which won an Academy Award. She followed this achievement with another, an Emmy Award for her documentary Pakistan: Children of the Taliban, and was the first non-American to win the Livingstone Award for young journalists. She was conferred the Hilal-e-Imtiaz by the Government of Pakistan, and was also included in Time magazine's 2012 annual list of the 100 most influential people in the world. We love her!
The brilliant artist Shahzia Sikander is also an integral part of our 5 incredible women. She is responsible for re-inventing miniature painting as practiced in Pakistan today. Her multi-media work in video, animation, mural and installation has pioneered a new discourse in the arts by bringing contemporary miniature painting into the international arena. She was recently awarded the MacArthur Genius Award and is currently working on a new project commissioned by the Samdani Foundation, Dhaka.
A true Pakistani hero, Mahnoush celebrates Roshaneh Zafar as a ground breaking social entrepreneur. She is renowned for her pioneering work in helping women in lower-income groups achieve economic parity. Founder and Managing Director of Kashf Foundation, Roshaneh based her organization on the micro-financing model of the Grameen Bank, started by Bangladeshi Nobel laureate Dr. Muhammad Yunus. Kashf has disbursed over 2.2 million loans and redirected the lives of thousands of households.
Finally, Mahnoush is proud to commemorate the spirited sportswoman Naseem Hameed, a Pakistani sporting icon who gained fame for her country when she won the gold medal in the 100-meter dash at the 11th South Asian Federation Games in Dhaka, Bangladesh, in 2010. She became the fastest woman in South Asia by clocking in at 11.81 seconds, and she was appointed Ambassador of Sports in recognition of her achievement. She has opened an academy to train other women athletes in Karachi, to contribute to the development of sports and women in Pakistan."
Mahnoush's Anniversary Edition collection will be available across Pakistan as of 25th March 2014. First launched in 2010 by entrepreneur and design force Arjumand Amin, Mahnoush is a niche brand, which has fast gained renown for exceptional fabric quality and inspired design sensibility, as evident from its nomination for a coveted Lux Style Award in 2013 . Quality is manifest most notably in the construction of the fabric, with the brand exclusively using 100 percent Pima cotton, widely acknowledged as one of the finest cottons in the world. As always, Mahnoush's seasonal designs are the result of the creators' deeply researched approach with inspirations derived from Arjumand's academic and aesthetic study of numerous books and museum sources.