Fashion Central e-shop features the master minded Ahsan Khan collection, a very well-known Pakistani actor who has got immense popularity in field of television industry and is also gaining ground to make his name in Fashion industry. The spectacular designs evident in his dress collections that cater to everyone and are so well liked and sold out in a go that his name became big in the fashion scene.
Autumn Winter Trend:
A/W trend will be best cherished by wearing Ahsan khan's collection which comprises of fashion luxury outfits for women, some elegant yet funky clothes for girls and some really stylish wear for men that are different from what the rest has to offer. Fine cultural and tasteful looking, smart & attractive kurtas that can easily get wore with the trousers, jeans and shalwar's are the prominent styles in the classy looks.
Ahsan Khan has given a tough competition to the designers who deal with Prêt and Semi-formal wear because his styles are elegant and prices are affordable. Promising complete comfort, the quality and designing help make you create an ultimate impression.
Anchor lines Kurta along with Check: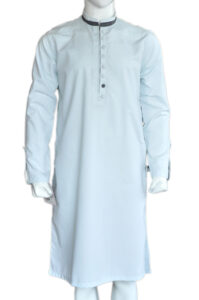 This Kurta is something explaining the true color of our Pakistani culture including a sense of comfort while wearing. When it comes to the specification of this Kurta, it seems that in cheaper price Ahsan has introduced a better package. Basically it's a semi-formal wear of fabric COTTON with close Ban style.
When you will be wearing this Sky blue full sleeve Kurta with Anchor lines as its unique selling point you will definitely look sober and sophisticated. The best thing I find in this style of kurta is the length, the length of this Kurta's below knee which looks great when wearing on Shalwar or trouser.
If taking up the quality of this style I must say and share here it's a perfect package in just PKR, 2307 ($ 22) expressing the real 'you', from Ahsan Khan's designs this Sky blue colored Kurta which is made of thick cotton will be proved a comfort for you whole day.
Back Patti Kurta: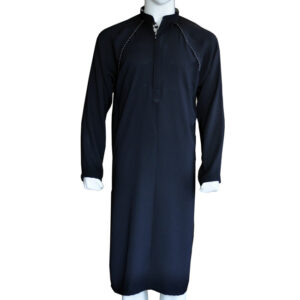 Well this is something you can say we are waiting for in traditional dressing, sensible and sober color with PATTI design at the best area of this Kurta which suits the most and makes this Kurta Unique in its own. This is something which can be used in a formal wear even in friends and family get to gathers, occasions like EID and functions like Mehandi.
It's a comfortable wear made of SILK COTTON featuring full close ban and the best of best back Patti. Length is below Knee which looks great even wearing on Jeans. But the thing which needs to be focused here is you need to be a little careful with its washing it needs to be dry clean only, for getting an increased life of this Kurta. When it comes to the price it's something a good finding in economical price, costing PKR, 2727($26).
So buckling up in a line you will definitely enjoy wearing this Plain Hem style in pocket friendly price which will keep you relax throughout the day and surely enhance the appeal of your toned body.
Pitta Work Band Kurta: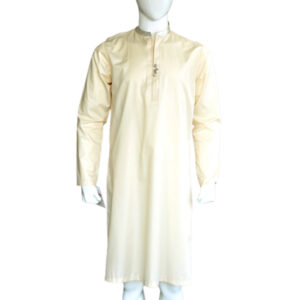 Wow 'what's the impression wearing this sort of stuff". Really it is something which will definitely flourish you. Its neck is in Close Ban shape with beautiful silver Ban embroidery which gives an immense look to this Cream colored Kurta.
Fabric used in this Kurta is silk cotton actually finest silk cotton focusing on your comfort level. You can do your work in a relaxed manner wearing this semi-formal Kurta. The Capturing thing in this Kurta is the selection of buttons used.
So in a one liner this PITA WORKED BAND Kurta with beautiful buttons selection on it will let you create an ultimate impression with a considerable price of PKR, 4090 ($39).