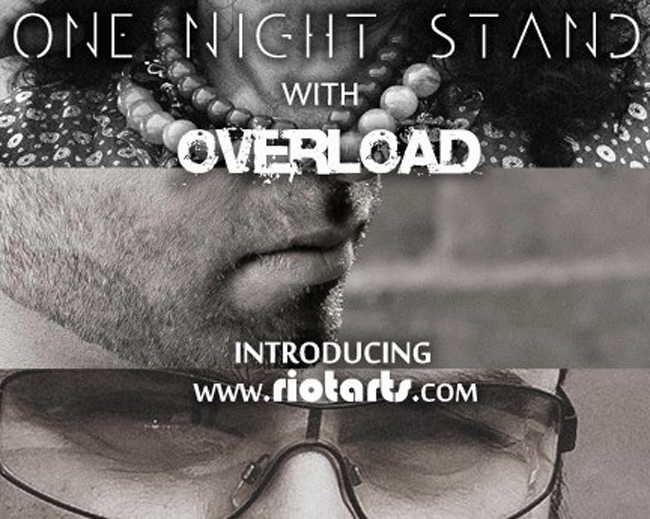 On Sunday, 2nd March 2014, an array of celebrities descended on Riot Studios. Farhad Humayun introduced them to his latest venture riotarts(dot)com, which he is launching to provide local musicians a platform to upload and promote their music, which was followed by an exclusive live performance by Overload. Pakistan winning against India in cricket on the same night, was a cherry on top of the cake.
While addressing media in his studio Farhad explained the reason behind his launching riotarts(dot)com. He said, "Ever since YouTube got blocked, we the musicians have suffered a lot. We tried a couple of times to send petitions to higher authorities but unfortunately they were of no use.
YouTube was a very important tool of marketing for us, hence I decided to then launch my own web channel for local artists. It is being funded solely by me and there are no corporate brands sponsoring it currently. I did not want to wait around for a sponsor and then start this project so I decided to go ahead with it. If in near future any company wants to be associated with riotarts they are more than welcome but as of now I am the only one funding it."
The event's star studded guest list included Atif Aslam, Ahmed Ali Butt, QB, Haroon Shahid, Adnan Sarwar, Taimur Rehman, Mahvash Waqar, Shahzad Hameed, Noor Ul Hassan, Mr and Mrs Muneeb Nawaz, Todd Shea, Huma Shah and Sehyr Latif.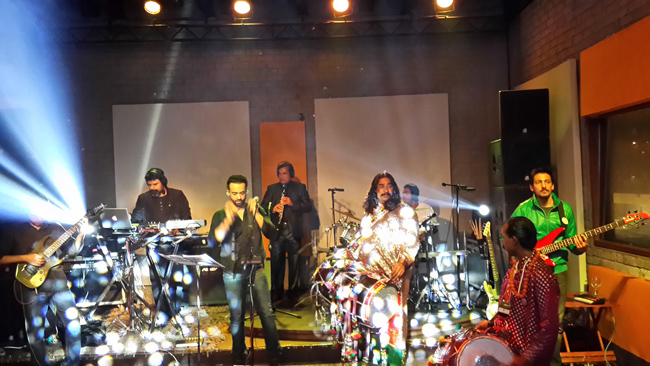 American guitarist, songwriter and producer Lanny Cordola was also there to attend the event and said "I'm part Pakistani! I've been here for 4 years now. I've been discovering these amazing musicians. I feel like Pakistan has really grown on me now. I grew up listening to heavy metal music in Los Angeles so discovering bands like Overload and listening to them is an awesome experience for me. Farhad is a musical peace messenger as I like to call him."
Guests were all very excited to watch Overload's live performance and the band didn't let them down one bit. The passion and fire with which they performed radiated throughout the audience. The band's set list featured most of their best material such as Nerey Aah, Batti, Vichar Gayi, Jeet and a special cover of Eye Of The Tiger.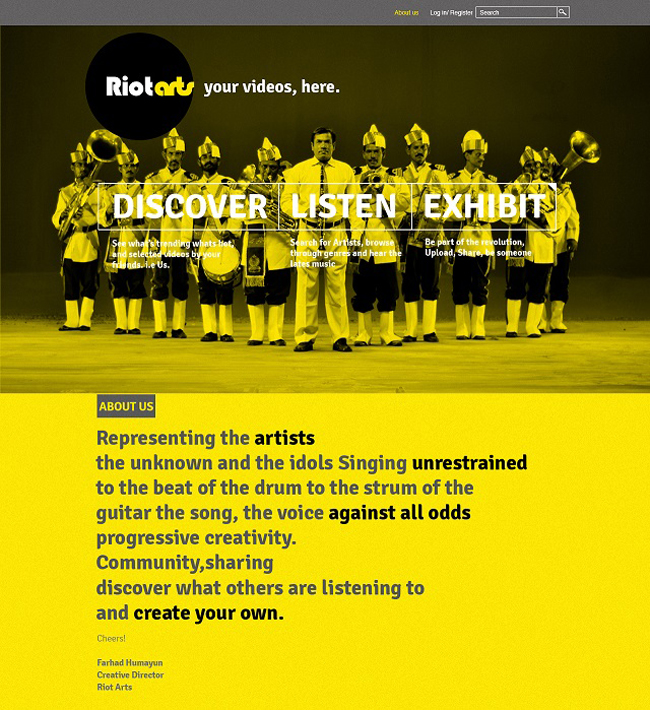 "I think this event was brilliant. Honestly, I didn't even expect it to be so good. I was supposed to fly to Islamabad today but decided to stay back and I am so glad I did. I had never heard Overload perform live before even though I have known Farhad for years. He's phenomenal live! Overload is undoubtedly one of the top bands in the local scene currently. Nobody does fusion like them" stated singer Qurat-ul-Ain Baloch, popularly known as QB.
Speaking about the website, she said "I think the website is great. Nobody has done something like this before in Pakistan and I'm so glad Farhad took this initiative to support local musicians".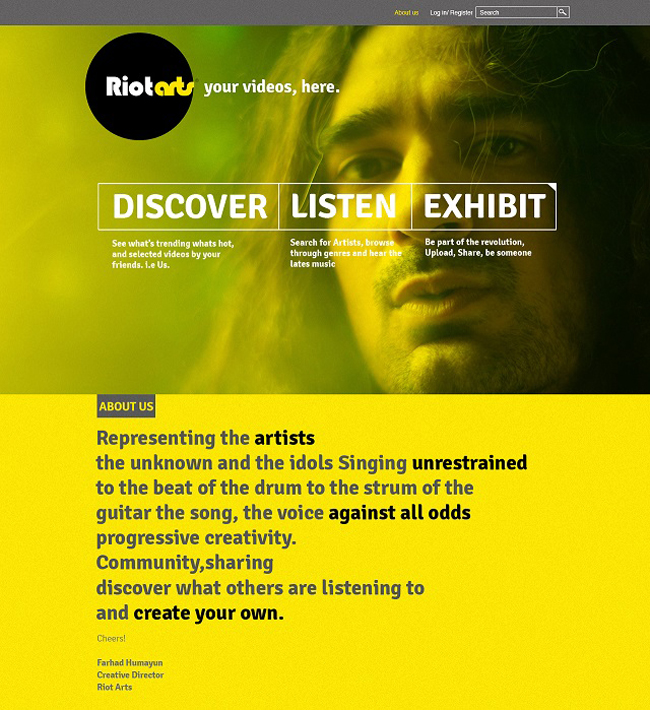 Ace guitarist Shahzad Hameed said "I think whatever is happening and what we are getting to see is like a ray of hope. Farhad is talking about promoting local art and he wants audiences to see it. The fact that he's doing it completely independent of pressures from government and corporate companies is brilliant in itself. Farhad is a pioneer in this industry and he has a vision which is beyond making money".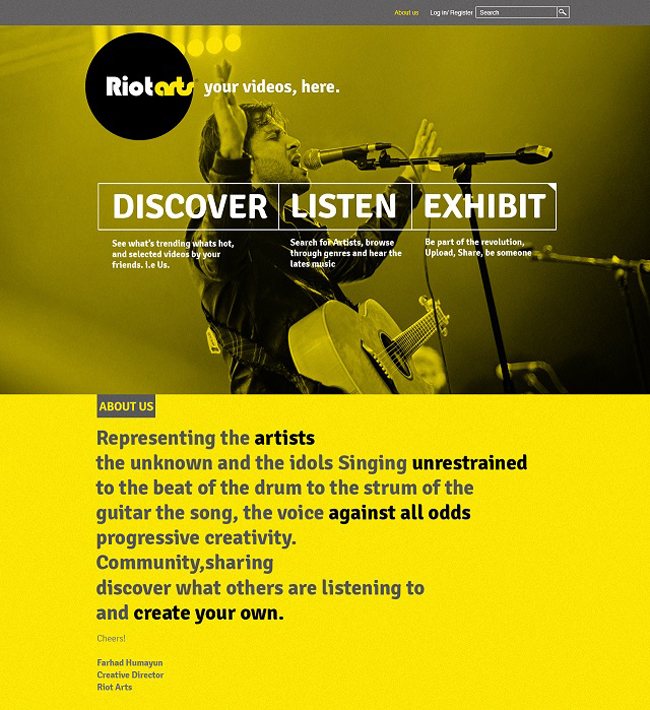 TV host turned actor Noor Ul Hassan, who was in Lahore visiting from Karachi, said "It was a great experience hearing Overload perform live. They did a fantastic job!"
Speaking at the event regarding his excitement that riotarts.com is all set to go live in 30 days, Farhad said "Since neither TV channels nor radio stations will play Pakistani music as much as it deserves to be played, we the musicians need a space of our own.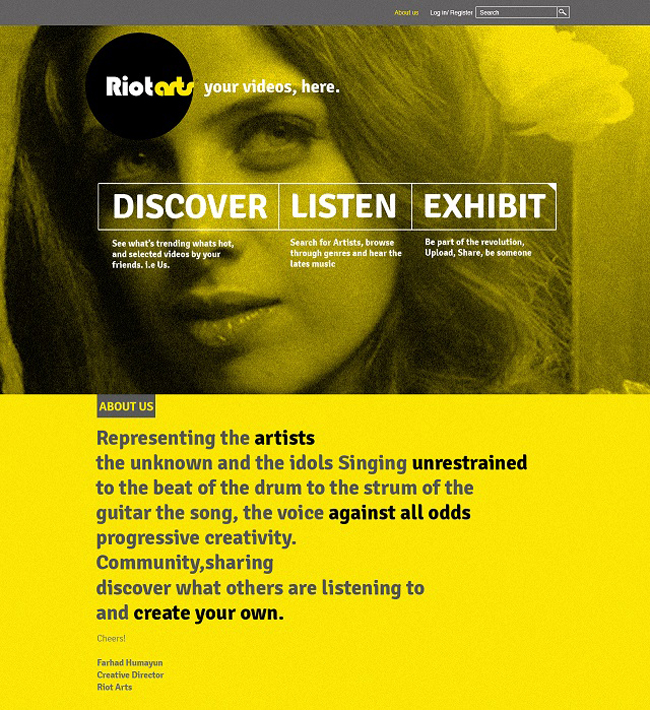 This is not a business venture for me. It's a service which enables all kinds of artists to come forward and shine. I believe it is the right of every person to express himself and I invite all the people of Pakistan who have alternative and progressive ideas, to jump on the bandwagon and make their presence felt."