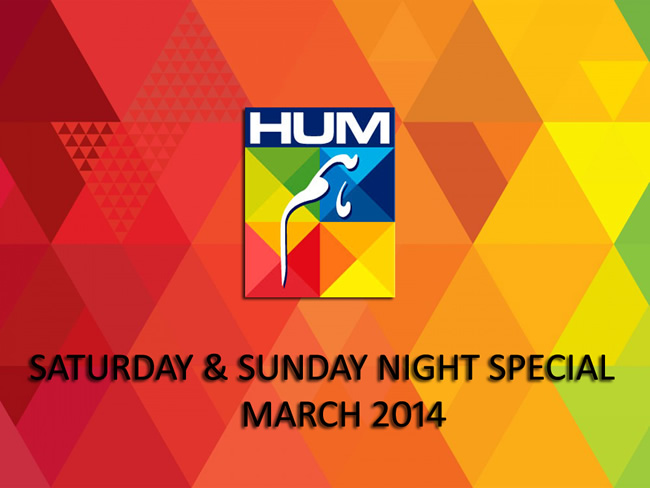 HUM will lighten up the weekends of its viewers throughout the month of March through special programmes every Saturday and Sunday, it was announced here today. The new programming schedule begins from 2nd of March 2014 with attention grabbing tele-film 'Mujy Chu Lo'. The tele-film stars Noor Hassan, Annie Jaffri, Manzoor Q and Ishita.
HUM will celebrate Women's Day on 8th of March 2014, with a special tele-film starring Aiza Khan, Shamim Hilali and Imran Ashraf. On 9th of March 2014, HUM will be airing 'Aik Mamolee Larki' with star-studded cast including Junaid, Moomal Sheikh, Anam Fiaz, Jia Ali and Adnan Shah.
HUM will be treating its viewers by airing romantic comedy and super-hit Bollywood movie, 'Kabhi Khushi Kabhi Ghum' on 15th March, 2014. The movie stars Amitab Bachchan, Shahrukh Khan, Hirthik Roshan, Kajool, Kareena Kapoor and Jiya Bachan.
On 16th March 2014, HUM will re-telecast Servis 1st HUM Awards that were held last year on 13th March 2013. The star-studded, entertainment-packed and brilliantly executed show honoured all those in the entertainment industry who supported HUM Network.
On 22nd March 2014, HUM will be airing a thought-provoking tele-film, 'Kya Naam Dein'. The programme boasts of super-star cast including Javed Sheikh, Noor Hassan and Areej. The last Saturday of the month, 29th of March, will witness a light-hearted comedy with Moammer Rana and Barkat Ali in a hilarious tele-film, 'Jungle Mein Mangal'.