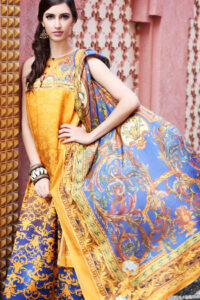 After their recent Colours of Life campaign with Layton Rahmatulla Benevolent Trust (LRBT) and designer Sania Maskatiya, Pakistan's leading textile group Gul Ahmed has introduced a limited edition collection of silk based outfits under the name Lamis Digital Silk which is now available at more than 45 Gul Ahmed IDEAS outlets and leading retailers nationwide. The collection will also be showcased during the 3rd day of Fashion Pakistan Week 2014.
Lamis Digital Silk takes its inspiration from a mix of baroque, Islamic art and Mughal interiors, featuring intricate digital designs which are rich in color and based in luxurious fabrics. Indeed, Gul Ahmed's Lamis Digital Silk collection features innovative prints with hints of traditional elements in lush fabrics such as pure silk and chiffons. The collection is based in an unorthodox colour palette and features bursts of playful colours such as reds, fiery yellows with orange accent hues in a contemporary take on traditional design aesthetics.
Speaking about the brand's latest collection, Chairman Gul Ahmed Bashir Ali Mohammad said, "At Gul Ahmed, we take pride in our ability to innovate and have integrated this brand value into every aspect of our operations. From the factory processes and machinery in our manufacturing facilities to the final products that are made available to our consumers, we ensure that we constantly innovate to provide our patrons with superior products at competitive prices with unmatched attention to detail.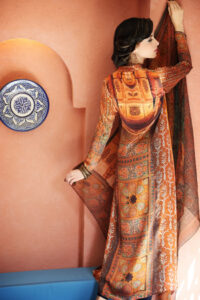 Our latest Lamis Digital Silk collection features a variety of innovative digital prints which traditional designs in modern cuts and silhouettes at the same high quality that our patrons have come to expect from us. We've already received a good response from our local and international patrons and anticipate even further success with the collection."
With an installed capacity of more than 150,000 spindles, 300 state-of-the-art weaving machines and most modern yarn dyeing, processing & stitching units, Gul Ahmed is a composite unit – making everything from cotton yarn to finished products and is one of the leading composite textile houses in the world.
Gul Ahmed also enjoys significant retail presence through its signature retail brand Ideas by Gul Ahmed. The chain now has an extensive chain of more than 40 retail stores across the country, offering a diverse range of products from home accessories to fashion clothing. With more than 60 years of experience in the textile industry, Gul Ahmed is globally synonymous with quality, innovation & reliability.