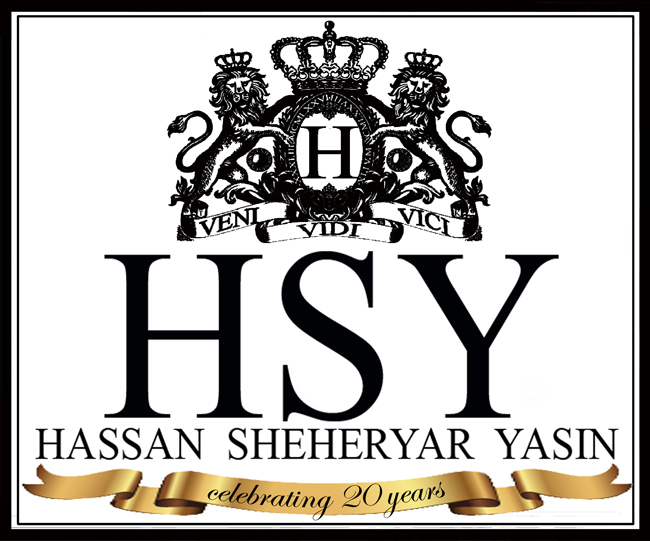 Pakistan's definitive fashion force, Hassan Sheheryar Yasin celebrates 2014 as his 20th year in fashion, as a couturier, show director, event architect and choreographer. In his 20 years of fashion, HSY's pioneering role has been of significant influence, working to shape the course of the Pakistani fashion industry and to create new professional benchmarks through his fashion design, innovative fashion marketing and promotion, creating space for cross brand synergies and collaborations and crafting new stylistic directions for runway shows and fashion weeks.
Indeed Yasin's first industry association was through his work as a fashion choreographer in 1994. From 1994 till now, HSY has grown to spearhead his eponymous and internationally recognized fashion brand , a dedicated event management company, [HSY Events], to representing some of the world's most influential international lifestyle brands in Pakistan [ToyWatch, Ponds, Porsche], spearheading the spirit of brand collaboration with projects such as HSY for Stoneage and Bareeze respectively [high street retail], HSY for Sunsilk [designing a limited edition shampoo bottle], the HSY scarf collection for Shaukat Khanum and most recently, his synergy with YOCA [to design a premium furniture collection], to choreographing Pakistan's top fashion showcases currently including all the coveted PFDC Sunsilk Fashion Weeks & PFDC L'Oreal Paris Bridal Weeks, Fashion Pakistan Week and Pantene Bridal Couture Week.
In celebration of his second successful decade in fashion, HSY will also be announcing a series of expansion, events, collaborations and limited edition collections throughout 2014, starting with the unveiling of his S/S 2014 pret wear collection titled 'Venom' opening FPW 2014 on February 19. For the collection, HSY has infused the timeless elegance of the regional woman of the Sub-continent and Middle East with textures inspired by snakeskin.
Unapologetically glamorous, the collection features design elements such as chevron lines, historically used to indicate rank or length of service in the military, which HSY has incorporated to signify his 20 years in the fashion industry. HSY will also be announcing the launch of a flagship standalone store in Lahore soon. Later in 2014 and in celebration of his 20 years in fashion, HSY will reveal a customized limited edition 20 Year design with international brand ToyWatch, a new collection at PFDC Sunsilk Fashion Week and further, unveiling an exciting new television project in Pakistan.
Speaking about his 20 year Anniversary, Hassan Sheheryar Yasin said "It's been quite a journey these past two decades and a very fulfilling one at that! I have been fortunate to have been a part of Pakistan's fashion industry from when it was a mere fledgling, to playing a part in what it is today, a thriving, vibrant space. In these past twenty years, I have been privileged to have worked with some of the region's most prolific personalities and minds, from fashion to entertainment, brands to television. I look forward to another twenty years of directional expansion, collaborations and continuing to push Pakistani fashion within Pakistan and globally."
Hassan is one of the founding members of the Pakistan Fashion Design Council (PFDC) and is the recipient of multiple 'Designer of the Year' awards, including the Ahlan Fashion and Lifestyle awards in 2009, the Lux Style Awards in 2005, 2007, 2010, the Most Stylish Fashion Icon at the MTV Style Awards in 2009 and Style Guru of the Year by Indus Style Awards in 2007. One of I.Q Magazine's Top 20 Fashion Icons of the World and amongst HELLO Pakistan's #HelloHot100 in December 2013, Hassan was also voted Ahlan's Hot 100 people in 2009 and 2010.