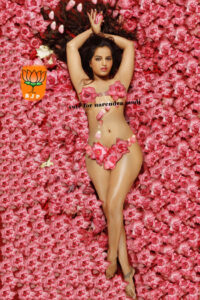 Bollywood shares a great relationship of love and friendship with Indian Politics. Though their contributions and have bought their charismatic image which pulls and motivates the crowds. Actors Shatrughan Sinha, Hema Malini, Navjot Singh Sidhu and Smriti Irani have joined and campaign for the BJP.
Many a time politics leaders taken Bollywood support to express their thought recently Salman khan was seen with Narendra Modi at a kite-flying ceremony in Ahmedabad, Gujarat and many other Bollywood celebrities have also shown their support to political leaders in their own way.
Bollywood actress Meghna Patel had done a photoshoot to show her support to Gujarat Chief Minister and BJP's prime ministerial candidate Narendra Modi by doing an artistic and aesthetic photo shoot with the lotus flowers all over the body. Lotus flower is the logo of the BJP. She said, "Narendra Modi is the Man of today. He is the embodiment of valour who lives in hearts of millions of people."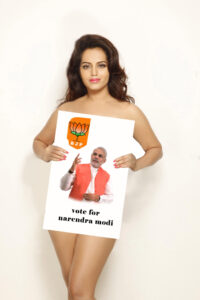 Bollywood's contributions to politics have been far and large. The glamorous diva was seen rising the temperature meter and has done an elegant look under the bed of flowers. Meghna was looking extremely posed and beautiful while posing in flower. The star was seen striking a sultry pose and adorning the sylphlike beauty and snazzy like the lotus.
Narendra Modi is all set to make India free from Corruption, Inflation and Making it a prosperous and powerful India. No politician in independent India has been demonised in such a relentless, Goebbelsian manner as Narendra Modi. Meghna Patel said, "Narendra Modi is a "person of great prominence" on India's political landscape and has done great works for developments and prosperity in his state and now he is the prime ministerial candidate. People will vote for him to make the India better in 21nd Century. We all love you Mr Modi."