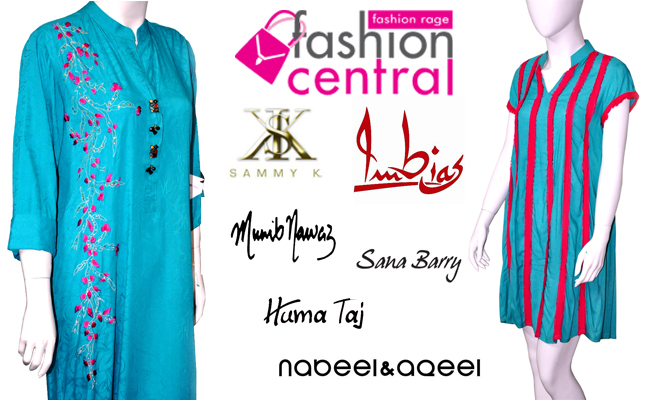 As people are more aware about what is coming in and out in market, it has became very important for the brands to come up with something different yet appealing. To cater to the evolving needs of fashion enthusiasts, couple of brand stores has opened up with exclusive product range at attractive price points. In the mainstream of intense competition amongst fashion brands, another brand has emerged to facilitate the online shoppers "The Fashion Central e Shop".
Fashion Central eShop is a purpose-built virtual facility and is stocking clothes of more than 30 + women's wear designers, including 4 men's wear designers and 5 jewelry designers. The designers range has distinctive style clothing to meet customers fashion needs. This e Shop is a one stop shop where you can find diverse product range by multiple designers with high quality available at affordable price. The Online shop has provided a platform to a lot of emerging talented designer to market and promote their collection.
Not only meeting the expectations of local customers but online service will facilitate global orders and deliveries, providing clothing at the same prices locally available in Pakistan to international destinations. Not only this will the 1st 100 customer be entertain with 10% discount on which ever product they select. The sales discounts and promotional offers have enticed the buyers to buy from Fashion Central e Shop. Wow.. What a magnificent treat. The buyers can get benefited from exclusive and attractive product designs in respective product categories.
Fashion Central e Shop aspires to create an online display place where patrons are provided a fully immersive shopping experience, and can be abreast of the latest designers and trends in the fashion industry. The girls and boys can get what they want by buying outfits from designers conveniently just by sitting at home. From the registration process to product selection and till the shipment of product at your door step is crisp and timely process effectively managed by Customer service team.
To facilitate the singles, and married women, Fashion Central e Shop is stocking in a variety of dress lines such as Formal Wear, Semi formal and Pret Line. All categories have fashionable dresses designed by renowned Pakistani designers who have displayed their creations at Fashion Central Multi-brand Store.
The Online store has stock a broad selection of clothing from a diverse range of brands including designer labels from Lahore, Karachi, Islamaba, India and UK. Afsheen Mehboob, Aisha Imran, Annoushay & Fatima, Ayesha Elahi, Ayesha-Somaya, Banni' D, Blend, Buckle Up, Dhaagay by Madiha, Emran Rajput, Ethnic by Farhat, Fahad Hussayn, Hajra Hayat, Hira Omair, Huma Taj Couture, Pink Chiffon, Ruby Bhandari, Sammy K, Sana Barry, Sanam Agha, Sara Salman, Shibori, Shireen Lakdawala, Sughi's & Uzma Sheraz, Imbias, Madiha Ibrar, Maria Khan, MBM, Mirat Ul Uroos, Monica Paracha, Munib Nawaz, Nabeel & Aqeel, Nayna, Yadou and Zainab Fawad. The PIFD's Top graduate's collections are also available. Famous brands like Cranburry, High Street, Revamp, H&M, New Look and Forever21 have recently contracted with Fashion Central for the online display of their Top class collection.
Furthermore, the young boys and girls of PIFD Institute are well aware with the latest trends and styles and design perfect product range well suited for our young generation. In addition to this, latest shoe range from Chic and jewelry pieces by brands such as AIMS Couture, Ayesha Qadeer, Diamond Emitations, Iquera and Midas also is a huge attraction for jewelry enthusiasts.
Moreover, Fashion Central e Shop has also been offering latest fashion collections, Jewelry and accessories of various Pakistani and international fashion designers at Fashion Central online shopping. Now, the Fashion Central Multi-brand Store aims to provide shopping fun to all its customers worldwide.
As already known that Fashion Central is one of the leading online fashions and lifestyle magazine in Pakistan who is feasting fashion seekers through its well-produced online content related to Fashion and other related categories. For all those who want to have an "Unparallel Online Shopping Experience" must visit this online portal. It a 100% guarantee that the shoppers will have new shopping experience for the first time at Fashion Central e Shop.