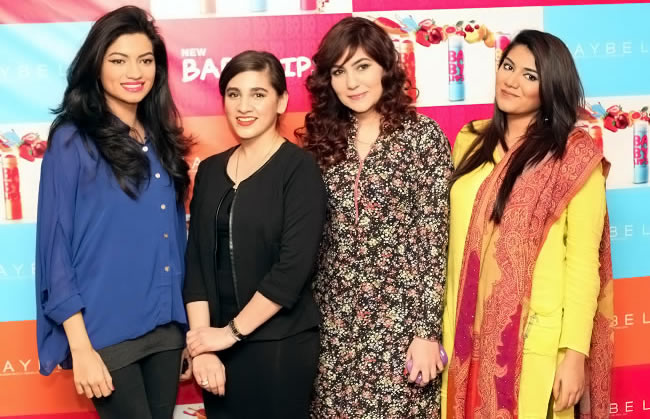 This ground breaking new range of Maybelline's Baby Lips channels an exclusive lip renew formula, incorporating a botanical extract made from Centella Asiatica, a medicinal herb that has been used for centuries, which helps lips look renewed with visibly less noticeable lines. The product's advanced formula also contains vitamin E, vitamin C and B5 along with shea butter, which helps in hydrating lips, leaving them soft, moisturized and comfortable. Baby Lips balm is further enriched with SPF 20, protecting lips from the damaging effects of the Sun's UV Rays.
To celebrate the launch of Baby Lips lip Balm, Maybelline New York conducted an exclusive press meet at The Pink Cadillac Café in Karachi. To this end, the event began with a welcome note and an overview of the new product by Maybelline's brand manager Wafa Kalia and Marketing Director L'Oréal Pakistan Zainab Pasha. This was followed by a unique presentation in association with Baby Lips lip balm as envisioned by Maybelline's make-up artist of the year Raana Khan who showcased a live make-up demonstration focusing on 3 distinct MNY Winter Looks. Public Relations for the event was managed by Lotus.
Maybelline New York's Baby Lips is available in 3 colorful tints each with its own playful scent: transparent, red and pink, where each delicious flavor moisturizes the lips through aloe and honey, while exuding anti-oxidants and vitamins that leave lips looking fresh and baby soft for up to 8 hours.
On the launch of Maybelline Baby Lips, Musharaf Hai, Managing Director of L'Oréal Pakistan (parent company of Maybelline) stated; "Maybelline New York is our most edgy brand. With scientifically-advanced formulas, revolutionary textures and up-to-the-minute, trendsetting shades it is indeed effortless, affordable and most beautiful offering. In the same spirit, with Baby Lips, the brand introduces a secret lip renew formula, changing the look and feel of lip balms with a new generation of lip balm – very enticing!"
Maybelline New York's Brand Manager Wafa Kalia stated; "We are excited to introduce Baby Lips to Pakistan; It is a complete beauty kit for the lips where each application of the lip balm, gives you a fix of moisture and a hit of antioxidants and vitamins leaving the lips moisturized for a full 8 hours with your lips visibly renewed and reborn."
Maybelline New York has introduced Baby Lips in transparent, red and pink shades available at all leading beauty/cosmetic retailers nationwide for PKR 350 only.
About Maybelline New York:
From a small, family-owned business to the number one cosmetics company in America, Maybelline New York is available in over 129 countries worldwide. As the fast growing & ever strengthening pillar of growth in the L'Oréal Pakistan group, Maybelline New York combines technologically advanced formulations with on-trend expertise to create accessible cosmetics with a spirited style.