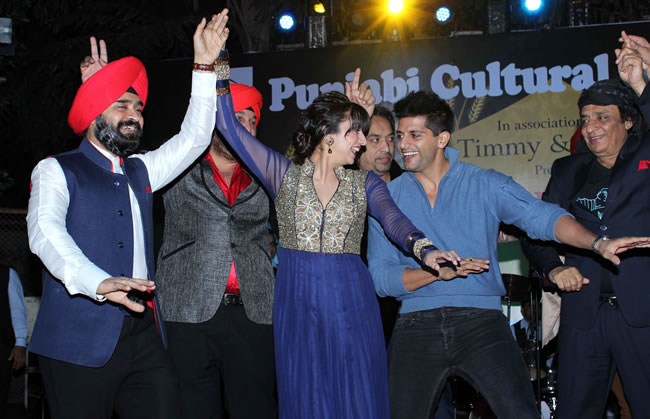 Punjabis were seen rocking while celebrating the festival "Lohri Di Raat with Bonfire and in great enthusiasm and joy. The festival was graced by many celebs from Bollywood and politics.
This auspicious festival was hosted by Congress MLC Charan Singh Sapra, President of NGO Punjabi Cultural Heritage Board. Director Rakesh Roshan was first to arrive along with Bollywood actor Jeetendra and was seen enjoying the fabulous tradition song which was sung by Punjab Folk Singer Lakhwinder Wadali, Rakesh Roshan said, "I love this festival and it's great to be here and celebrating Lohri with Punjabis."
Mr. Sapra spoke about the similarity between the histories of Maharashtra & Punjab. The strong bonding of the two is also seen from the fact that the 10th Sikh Guru Sri Guru Gobind Singh spent his later days at Nanded, Maharashtra.
PCHB celebrates Lohri to promote Rich Heritage & Culture of Punjab amongst the young generation here. Kulraj Randhawa was looking gorgeous in traditional blue Punjabi dress and was seen shaking her hips on the tune of Punjabi music.
Jeetendra was seen wishing Happy Lohri Di Raat to his fans he said, "It's great to be here and Celebrating Lohri in traditional way. I am wishing to all Happy Lohri."
Charan Singh Sapra was seen honouring MMRDA Director Mr. UPS Madan, Chief Guest of the function. While referring to the strong bonding of Maharashtra & Punjab in the terms of History and Culture Mr. Madan said, "Lohri which is a very popular festival of Punjabis and spreads brotherhood."
Actor Ranjeet was accompanied with his wife, he said, "Lohri signals the end of winter and the advent of spring so the celebration reflects warmth," Actor Karanvir Bohra dropped in with his wife Teejay Sidhu and were seen shaking their legs with everybody.
Punit Issar was seen enjoying the festival with lots of pump and fun. People was seen gathering round the bonfires, throwing sweets, puffed rice and popcorn into the flames, singing popular songs and exchanging greetings with each other. others who were present at the event  Timmy Mehta, Gurmeet Sehgal, Mohan Singh Saini, Raja Singh, Bobby Paul, Satvinder Singh Sapra, Pravin Mukhi, Mohit Gambhir and Satish Reddy. Everyone was seen enjoying the festival till wee hours.