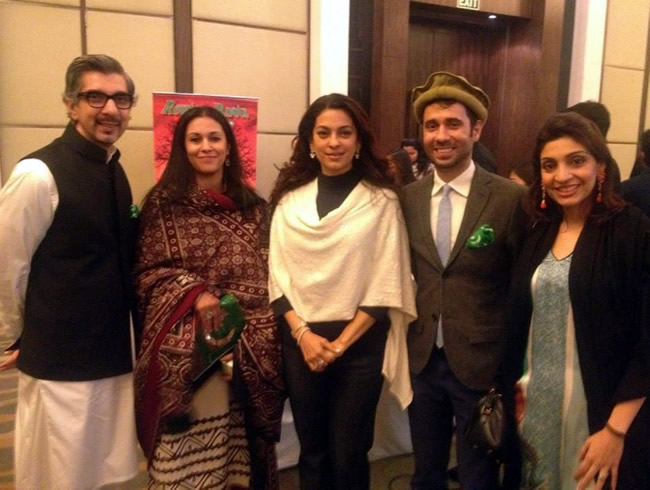 In an attempt to foster friendship, change mindsets and bridge the gap across borders, The Citizens Archive of Pakistan and Routes 2 Roots launched "Student Exchange for Change program, 2013-2015" on 15th January 2014 at Hotel Grand, New Delhi, Vasant Kunj. Mr. Kapil Sibbal (Honorable Minister, Govt. of India) inaugurated the program and shared his thoughts on the same. H.E. Mr. Salman Bashir, High Commissioner Pakistan in India and Indian film actress Juhi Chawla also graced the occasion and congratulated founders of Routes 2 Roots NGO on this commendable initiative to unite the two nations.
The launch witnessed the presence of diplomats, principals & children from the participating schools as well as those children who were part of the EFC program in earlier years.
This third round of the Exchange for Change initiative is set to be the World's largest initiative of its kind, expanding in scale with the participation of 5,000 students from 25 schools in 6 cities across the two countries. Children are all set to spread love, harmony and peace through regular exchange of letters, postcards and other content. Schools from Delhi, Mumbai, Dehradun (INDIA) and Lahore, Karachi and Rawalpindi/Islamabad from Pakistan will participate in the project.
Ms. Juhi Chawla said, "Today I am proud to be part of Routes2Roots and I am glad that I am witnessing the launch of the world's largest oral histories exchange program between India and Pakistan with more than 5,000 students participating directly, and indirectly many more who get involved in the program like their friends, families & neighborhoods during the oral histories segment."
H.E. Mr. Salman Bashir said, "I was glad to be part of exchange for change program being arranged and hosted by "Routes2Roots" and "The Citizens Archive of Pakistan". I had the pleasure of hosting the children visiting India from Pakistan to the High Commission in Delhi and then to my house in the last Exchange for Change Program. I was deeply touched and impressed by the efforts of the organization."
Mr. Kapil Sibbal (Honorable Minister, Govt. of India) lauding the efforts of Routes2Roots and CAP in bridging the trust between India and Pakistan through their unique program "Exchange for Change" said, "I am also glad to learn that this has been going on since 2010 & the milestone achieved is worth noticing with all seriousness."
Ms. Swaleha Alam Shahzada, Executive Director CAP said, "So far 4,900 students from across Pakistan and India have participated in EFC and a further 5,000 will now participate in EFC, which has become the largest oral history student exchange program in the world. What these students have achieved in a matter of months is what nations hope to achieve in decades – Change. They have dispelled misinformation and the distrust between the two nations. EFC is a testimony of the change that the Pakistani and Indian Youth want."
Mr. Rakesh Gupta, Founder, Routes 2 Roots said, "After achieving a spectacular response to our first & second "EXCHANGE FOR CHANGE" program, we look forward to "Exchange for Change- III" which will connect a much larger pool of children, schools and cities this time.
The third phase of "Exchange for change program" would help in bringing a positive shift in  mindsets of  the people in both the countries, especially the children, with more than 5000 school children directly and  their families and friends shall be involved making it the world's largest oral histories program. We have also created Alumni for the participatory schools from last project, so that students and teachers shall always be the part of it, and also form a legacy by way of a blog www.efcprogram.blogspot.com"
A real and lasting change in the relationship between the two countries can only brought about by altering the ingrained mindsets of the people on both sides of the border; Students Exchange for Change (EFC) will help the students in strengthening the bond between people from across the borders. This unique program will change the perspectives and opinions, hence lead to a better understanding about cultures, habits, and rituals through 14 months of communication. This program will aid to narrow the differences and promote the peace across the borders through facilitating the exchange of positive thoughts.
This endeavor will enable students to familiarize with each other's history, culture & lifestyle across Lahore, Karachi, Rawalpindi from Pakistan and Delhi, Mumbai and Dehradun from India. During the 14-months of the Exchange for Change program, a sustained exchange of written, visual & oral histories with school children aged 10-14 years from 6 cities, 25 schools with more than 5,000 children will take place, culminating with physical exchange of select children from both the countries to visit each others' country and the schools.
PARTICIPATING INDIAN SCHOOLS:
DELHI Schools – The Bloom School, Delhi Public School and Dev Samaj School.
MUMBAI School – Diamond Jubilee High School, Shindewadi Mumbai public School, Abhudaya Nagar Public School, Globe Mill Passage Municipal School, The Cathedral & John Connon Middle school, Euro School and The Bombay International School.
DEHRADUN Schools – The Doon School, Welhems' Girls High School, Kasiga School, Doon International School, Him Jyoti School and PYDS Learning Academy.
PARTICIPATING PAKISTANI SCHOOLS:
LAHORE – Bali Memorial Technical High School, Haleem Campus, LGS Paragon and Sanjan Nagar Public School.
RAWALPINDI – Ehsaas Foundation School, Global System of Integrated Studies (GSIS), Silver Oaks School and St. Mary's Academy.
KARACHI – Dawood Public School, Haque Academy, Aisha Bawany Academy and Bay View Academy.
About Students Exchange for Change 2013-2015: Attempting to bridge the divide and create friendship in the minds of our young children which shall soon be developed into a positive attitude at the decision level when these children grow up. "Exchange for Change 2013-2015" aims to create awareness of the cultures, similarities, and diversities, encouraging sustaining relationship among the children for a peaceful tomorrow.
During the 14-month exchange for change program, activities planned are, Letter exchanges, Charts, Posters, Postcards, Visual and oral histories exchange with sharing histories as heard from their elders and finally culminating with the visit of select children and teachers from all the schools to both the countries.
The age group of participating children is 10-14 years, and this year Dehradun has been added from India in this program in addition to Delhi, Mumbai, Karachi, Lahore and Rawalpindi.