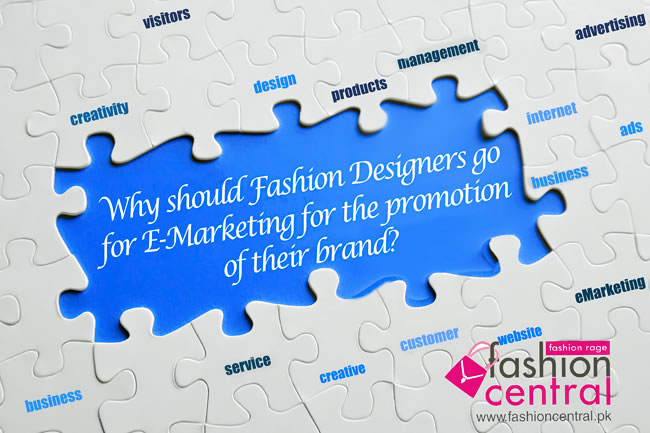 We are living in the information age. We spend most of our times looking at our computer and mobile screens. The world has gone far in the race of collecting information as more as possible. And not just we collect the information, but, we also process it for different purposes. Specially, in case of the content (that we sell and buy). The transfer of every real life experience to the digital world is simply amazing.
So let's come to the point. Fashion, one of the biggest industries and the most rapidly growing industry has also shifted towards e-marketing. Today, our identity depends upon what we share and how much uniqueness is rooted in our ideas. The fashion designers are more aware and keen to build long-term relationships with their customers. Designers know how to target a specific "segment" in easily convenient and accessible manner. And for that, they started making grounds in Social media marketing in promoting their products and services, where things are away at a single click.
Online Fashion Merchandising Industry:
The online Fashion Merchandising Industry is growing at an enormous high rate. So to keep up with the world, one needs to go for the idea of E-Marketing. A lot of money has been invested in this field for the last few years. There are some 'Giants' in this market like:
Gilt Group

Nasty Gal

ASOS

Moda Operandi

Beach Mint

Gilt group

Shoe Dazzle
Online shopping has come a long way since the inception of first fashion retail website www.boo.com in 2000. At that time few people believed that web based merchandising had a future. And later on after 10 years the pioneers of successful online business came forward and their names were
Net-a-Porter

Yoox
Every month three million people log on to Net-a-Porter, whereas Yoox operates in seven different languages, delivers to 67 countries, and reported net revenue of €152.2m last year, up 50 percent from 2008. According to business consultants Bain & Co, global luxury sales online grew 20 percent to €3.6bn in 2009 and the increase looks set to continue. With the influx of e commerce, online retailers now require a competitive edge to combat the millions of other online spaces vying for web hits and purchases.
In-Fact, fashion designers have moved towards online retailing. Instead of selling the clothes they sell the Fashion. E-Marketing really makes easy to produce different variations in the way the product is being sold. People are made to see the product with the eyes of the designer with the help of cool snapshots on websites.
Customer Segmentation and Product Line an easy thing. The content is classified in such a way that each product speaks everything about itself. The customers can easily search for their desired product.
The websites are made in such a way that they become more attractive and the website which is more unique is the key towards better business. It becomes very easy to advertise the product. The Social Media sites such as Facebook and Twitter, where the net traffic is immense can be used to advertise the product. It helps a lot in the aspect of Brand Awareness. The recognition and the deep impression of a brand are highly influenced by its visual presentation.
The brand's visual identity is the overall look of its communications. A long lasting visual brand identity is achieved by the consistent use of specific visual elements for the foundation of distinction, such as specific fonts, colors, and graphic elements. At the heart of every brand popularity and also at its identity is a brand mark, or logo. This is why all the websites stated earlier have really cool logos.
PR & Promotional Strategies:
The promotion of the product can also be achieved easily by adopting E-Marketing. Profitable retail brands only come from customer-centric organizations. There is sheer power in a strategically crafted master brand. It can not only be used as a guide for all your brand communications, but also the brand intelligence invested in it can be leveraged to completely transform your business.
The sole purpose of strategic branding program is to communicate your brand's offer meaningfully, logically and visually, ultimately driving profitability. And this can be done in a pretty much easier way by doing it online. For instance, the customers can be asked to be a part of a community where they may feel themselves apart of something big! Finalizing the discussion we can say that E-Marketing is the key for triumph in future.
"Focusing on the core problem your business solves and putting out lots of contents, enthusiasm and ideas about how to solve that problem is the real thing", Laura Fitto said.