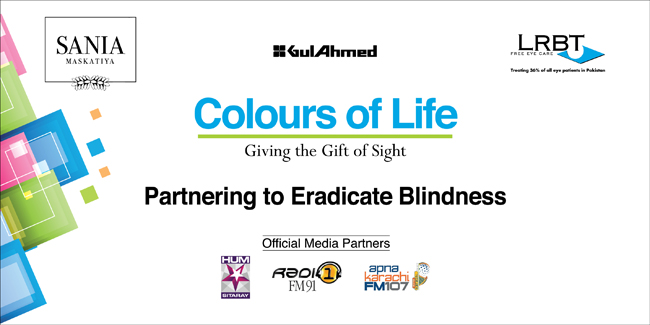 The coveted House of Sania Maskatiya reveals a capsule collection of scarves designed specifically for retail in partnership with the regions' leading textile group, Gul Ahmed, in honour and support of Pakistan's pioneering anti–blindness NGO, the Layton Rahmatulla Benevolent Trust [LRBT], heralded for its tireless contribution to fighting blindness in the country through its nationwide network of 17 purpose-built hospitals and 53 clinics in all the 4 provinces. Indeed the entire proceeds from every scarf sold will be donated to the LRBT and the collection will be available nationwide at both Sania Maskatiya and specific Gul Ahmed outlets as of January 13 2014.
With renowned actress Syra Shahroz as the campaigns spokesperson, the Sania Maskatiya scarf collection includes four designs based in both cotton and silk respectively, with each scarf available in long and square versions priced at PKR 3,000 each. Inspired by light, Sania's colour palatte features vibrant and colourful hues with two scarves also designed in LRBT calligraphy. The collection will be available at all three Sania Maskatiya stores between Karachi and Lahore and select Gul Ahmed stores (details provided further in the release).
Najmus Saquib Hameed, Honorary Vice Chairman & CEO of the LRBT has said:
"We are extremely delighted and thankful to Sania Maskatiya and Gul Ahmed for their utmost support to the cause of LRBT, to eradicate blindness. We are overwhelmed with their willingness to help in our fight against curable blindness in Pakistan with the joint initiative 'Colours of Life'. So far LRBT has treated 26 million patients in its 28 years of existence. Each scarf costs only Rs.3,000, which is exactly the money needed to save a life from lifelong blindness. Each Rs.3,000 spent can transform not only a person's life but the whole family."
On the collaboration, Team Sania Maskatiya has said "We truly believe in what LRBT have achieved since its inception in 1984 and their future plans. They have spearheaded phenomenal work in Pakistan, fighting blindness and transforming lives. We are honoured to be able to contribute constructively to their trust through our work. We have partnered with Gul Ahmed to retail our line as they share a similarly socially conscious and responsible outlook and with their retail strength our designs for the LRBT will reach a greater network of people. We also appreciate having Syra Shahroz on board as our main spokesperson and photographer Rizwan Ul Haq, who have donated their time and passion for this campaign"
Syra Shahroz has said "I'm very glad to be a part of this organization in whatever little way possible. LRBT is doing a tremendous job, it's a way for many to be able to achieve their dreams that may have come to a standstill, LRBT is making it possible for them. To me LRBT means hope."
Availability of Sania Maskatiya-Gul Ahmed Scarves for LRBT:
Sania Maskatiya Outlets:
• Karachi: 4C, 6th Bukhari Commercial Lane, (Opposite Oxygen spa), Phase 6, DHA.
• Karachi: Shop S-13, 2nd Floor, Dolmen Mall Clifton Block 4, Karachi.
• Lahore: 3-R, 1st Floor – Almas Tower, MM Alam Road, Gulberg III, Lahore [Near Mini Market].
Gul Ahmed Outlets:
• Karachi: BC 13, Block 9, ground floor, Razi Towers, Near Schon Circle, Main Clifton. Tel: 02135374131-5
• Karachi: Dolmen City, Outlet No. G4, Block-4, Scheme No. 5, ground Floor. Clifton. Tel: 02135296106-10
• Lahore: Building No.1, Block Z, Phase-3, commercial DHA. Tel: 042-35692884
• Islamabad: Plot No. 13 A, main double road, F7 markaz. Tel: 0512652491-96