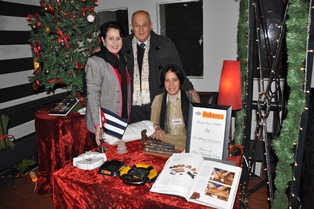 Despite the cold that seems to have taken over this relatively smaller yet beautiful city of Islamabad, restaurant goers could be found comfortably seated inside Al-Majlis tonight to enjoy Chef Fadi's first 7Up Chef's Bonanza Islamabad night. Gracing the evening also was Cuban Ambassador Jesus Zenen Buergo Concepcion and his wife, who were there not only to enjoy the wonderful food but also to meet with Cuban cigar roller Mercedes Hernandez Orta who has been especially flown in from the Habanos factory in Havana, Cuba for the 7Up Chef's Bonanza.
Seated in a cozy environment which was cheerfully decorated for Christmas, guests got to enjoy the elaborate 4 course menu put together by Chef Fadi. The evening was started off with the tasty 7Up signature mocktail followed by the cold mezzeh platter which included a fresh vegetable basket, an absolutely wow fattoush, hommos tahina, moutable, baba ganoush, carrot moutable and moussaka.
The cold mezzeh platter was accompanied by the hot mezzeh which consisted of kibbeh mabrom, falafel,soft, crispy and juicy cheese spring rolls and foie gras with pomegranate. If one thought they were done after this elaborate platter they had to think again as the main course consisted of a choice between the divine tasting shish tawook or the ever popular lamb ouzi.
It is a good thing that one always has a separate space in the belly for dessert as guests simply did not want to miss out on the mouthwatering kanafa and baklava. The evening winded down with guests enjoying their freshly rolled Cuban cigars while listening to the music transform from Lebanese to soft melodies played live on the piano by Mrs. Buergo Concepcion.