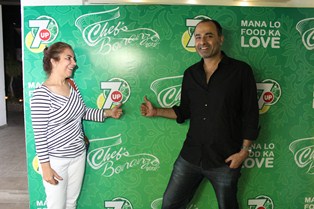 The Lebanese part of the 7Up Chef's Bonanza kicked off at Café Aylanto in Karachi tonight. Amidst the blowing of a cool breeze and candlelight, Aylanto guests enjoyed a delectable 4 course Lebanese menu prepared by international Chef Fadi, flown in by 7Up for this occasion. Guests started off their evening with a selection of cold and hot mezzah which included a fresh vegetable platter, fatuous, tabouleh, hummus, mutable, babaganouge, mouskah, carrot mutable and homemade pita bread.
The hot mezzah comprised of kebbeh and deliciously soft and crispy cheese spring rolls. In main courses one could choose between three authentic Lebanese dishes which included the shish tawook, a classic marinated tender chicken specialty, the fish harra with tasty potato hash and spinach, and the elaborately plated lamb ouzi with rice. Anyone familiar with Lebanese cuisine has heard of the famous baklava, and it was this specialty sweet dish along with knafeh with which guests could cap their evening.
Apart from the elegantly prepared meal, guests could enjoy the ever dumbfounding tricks performed by Malaysian magician Rosen Roy and watch expert cigar roller Mercedes Hernandez Orta, here from Habanos Cuba, roll fresh Cuban cigars. Celebrity guests who graced the evening included Tapu Javeri, well-known designer Deepak Perwani and journalist Tara Dawood. Amidst light chatter, laughter and soft music, the Lebanese evening at Café Aylanto was the perfect way to wind up the Karachi portion of 7Up Chef's Bonanza and introduce Chef Fadi's cuisine to Pakistani taste buds.