Following the Lahore and Islamabad sessions of Qissa Khwani Bazaar, The Citizens Archive of Pakistan (CAP) is bringing its unique series of storytelling sessions to Karachi. The event pays tribute to the fabled market of Peshawar renowned for its acclaimed storytellers of yore. The 3 day event will take place at the Pakistan American Cultural Center (PACC) from 18th to 20th December and will feature prominent Pakistani personalities such as Imran Aslam, Dr. Ruth Pfau, Zubeida Mustafa, and Kamal Ahmed Rizvi who will share anecdotes and milestones from their lives and careers, which are deeply intertwined with Pakistan's own rich past and traditions.
With an aim to keep the tradition of storytelling alive, CAP endeavours to recreate the essence of the historic Qissa Khwani Bazaar, which translates literally from Persian to 'Storytelling Market'; which unfortunately now solely exists as a physical structure only. The Peshawar based market used to be a commercial hub that attracted travelling merchants of all ethnicities, where they would trade their wares, frequent local tea houses and exchange stories and experiences over a hot cup of qahwa. This practice elevated Qissa Khwani Bazaar from a simple marketplace into a living, breathing celebration of the tradition of storytelling itself. The Qissa Khwani Bazaar is part of CAP's Oral History Project.
The event will cover different aspects of Pakistani history and culture, with each day dedicated to different themes, featuring a panel of expert speakers who will share stories relevant to the topic being discussed and a renowned moderator guiding the ensuing discussion.
18th December 2013: Theatre in Pakistan
Theatre and political satire has been an inextricable part of the Pakistan cultural landscape since 1947. With recent successes in this field and genre, and developments in film and art, an evening focusing on early theatre and cultural production will be enjoyable, informative and engaging. The speakers for this event will be Kamal Ahmed Rizvi, Sheema Kirmani and Imran Aslam. The session will be moderated by Zain Ahmed.
19th December 2013: Pakistan: An Inclusive Country
On the second day, the focus will shift to the religious minority communities of Karachi. This session will focus on the contribution of these communities to the fabric of the nation through their work in education, health, philanthropy and civil society. The speakers include Dr. Ruth Pfau, Hilda Saeed, Norma Fernandes, Cyrus Cowasjee and Dr. Amarnath Motumal. This session will be moderated by Nazish Brohi.
20th December 2013: Social Movements in Pakistan
The series will conclude with a focus on the social movements in Pakistan. Karachi, especially in the 50's, 60's and 70's was an epicentre of inspirational and well-organized labour, feminist and student movements that were successful in bringing long-term change. Speakers for this evening include Anees Haroon, Zubeida Mustafa and Mazhar Jameel. This session will be moderated by Raza Rumi.
Zain Ahmed, the moderator for the first evening focusing on Theatre in Pakistan says "It is important for any nation to be aware of its cultural and social history if it is to grow and evolve in any meaningful way. It is vital to share the history of our artistic development in the theatre to maintain links with the past that conservative forces have tried so hard to destroy. The current surge in theatrical works can be better sustained if it is built with knowledge of the successes and failures of the past."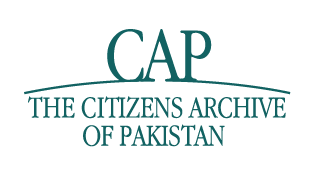 "With a past as rich and glorious as ours, we feel it is extremely important to elucidate upon it and hold events such as the Qissa Khawani Bazaar as reminder of that past", adds Amean J., the Co-President of CAP. "This effort is also made on our part to revisit the milestones that helped us build Pakistan in the hope to remind and inspire our present generations to set a higher bar for a more prosperous future."
Swaleha Alam Shahzada, Executive Director of CAP said, "We all have stories that need to be told, cherished and preserved. The Qissa Khwani Bazaar represented a tradition that is now lost while our first generation of storytellers are also leaving us quickly – With this tribute, CAP's Oral History Project hopes to revive and preserve the tradition."