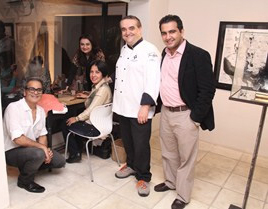 It was a calm and quiet evening with the 7Up Chef's Bonanza at Cafe Koel. The menu prepared by Chef Giuliano for his last evening in Pakistan at Cafe Koel was a sensuous one. Saving Koel's guests, one of whom was Junaid Khan vocalist for Call, from having to make difficult choices there was a single delectable option in each category of the 4 course meal. Starting with the fresh buffalo mozzarella and ripe tomato with fresh basil and extra virgin olive oil, and moving on to the linguine with seafood and fresh cherry tomato, guests were already in heaven.
The main course was another flavorful dish comprising of the breaded and pounded chicken breast "Milanese" style with arugula, cherry tomato salad. The combination of the refreshing salad placed on top of the warm chicken was simply delectable. Guests could finish off their evening with an absolutely gorgeous dessert that left one feeling like they had eaten something healthy. A layer of biscuit banana and caramel with fresh cream and bitter chocolate ice cream was a combination one just wanted to savor.
Sitting at Cafe Koel while listening to Italian music and enjoying an Italian meal, was the perfect way to cap off the week. For guests who were cigar enthusiasts, Ms. Mercedes Hernandez Orta was seated in Cafe Koel's art gallery demonstrating the art of rolling the perfect Cuban Habanos cigar. Having come from the Habanos factory in Havana, Cuba specifically for the 7Up Chef's Bonanza she not only showed guests how a perfect cigar was rolled but they could also take the cigars and try them. All in all it was the perfect evening with which to end the week and begin the weekend.