Khadija from Kays Kollection:
Winter season this time around will all be about elegant wedding outfits that will be designed keeping in mind the eastern values and importance of the wedding dress. There will western influence in the outfit as well. The colors will depend on personal choice but dark shades will be preferred. Traditional work on banarsi of zardozi will be the hottest pick as it is a timeless favorite. The accessories will be large gold sets that will consist of multiple pieces.

Afsheen Mehboob:
This bridal season the hues will be towards the bolder and darker colors like maroon, blood red, dark green and the likes. The cuts will be traditional mostly portraying the perfect wedding dress. The embellishment will be more towards heavier side as the essence of the wedding dress is making the best outfit. The bride can accessorize these outfits with magnificent 22karat gold sets and bangles. The Material that will be focused on is Shamooz Silk, Chiffons and banarsi.

Amber from Cranberry:
Cranberry design philosophy for bridal wear reflects the richness of eastern heritage fused with western cuts and contemporary silhouettes. This season bridal collection would have intricate embroideries with trendy cuts. Lots of volume in shirts paired with palazzos. Rich colors including pastels which desires to seek graceful sensuality. Collaborating rich banarsi fabric with chiffons to give outfit perfection and care with meticulous attention to detail.

Flairs by Naureen Fayyaz:
Trends which I see in lime light followed by brides will heavily embroidered outfits with modern cuts keeping in mind the occasion and its seriousness. The colors will range from light to deeper colors as the needs have changed and so have the outfits themselves. The accessories that will be worn will be according to the color of the outfit. Shamooz Silk will be a popular choice.
Aisha Alam: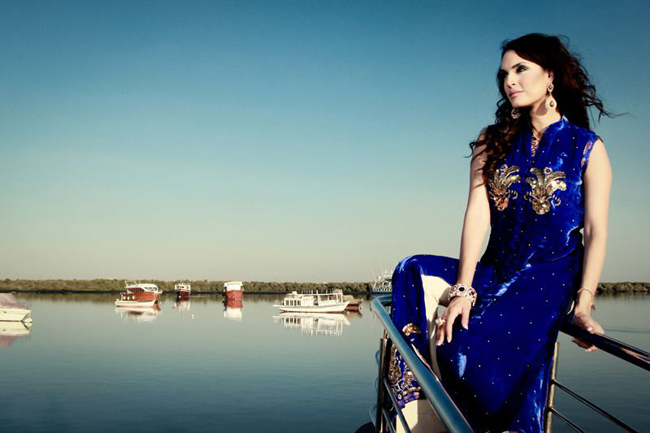 The key to success in the bridal trends are exuberance oomph and looking as perfect as the word 'Beautiful' sound, hence the fabrics and colors are used absolutely in contrast. Chiffons mixed with rich jamawars, and the colors are the dirty tones if fresh pastels in contrast with the dark royal shades of grays, blues reds and rusty oranges. The hue of embroidery is mainly sparkly silver. The cuts differ from bride to bride… although the ideal silhouette is slender yet super voluminous at the bottom!