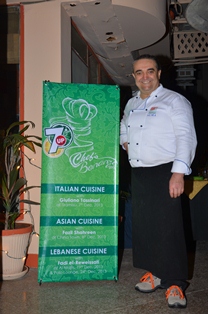 Comfy, cozy and warm were the three words that came to mind when one visited Islamabad's popular Tiramisu restaurant last evening on Saturday 7th December, 2013. The 7UP Chef's Bonanza has moved to Islamabad for 2 days and Tiramisu was the one to open its doors to Chef Giuliano's creations first. While Rosen Roy kept guests enthralled with his magic tricks, Giuliano delivered heaven on a plate with his extensive 4 course meal.
Tiramisu patrons could keep warm with the cauliflower and broccoli soup with almonds and a giant prawn, or the eggplant parmigiana tomato couly, mozzarella and basil pesto. To keep the appetite stirring, one then had a difficult choice to make between the rice white mushroom, shallot caramelized and sage pasta, or the pappardelle handmade pasta with tomato couly tossed with fresh cream and mozzarella garnished with a touch of basil.
The main courses once again posed a problem as choices ranged from fresh red snapper flown in especially from Karachi, to beef tenderloin sliced and grilled with roast potato and garlic sauté spinach, or the Italian style chicken cutlet with rocket salad, cherry tomato and balsamic reduction. Guests however could not afford to get too full as they could choose to finish off the night with a mouthwatering choice between rich coffee panna cotta with strawberry sauce and almond or the hot chocolate fondant with vanilla ice cream, which was to die for.
The night was lively and pleasant as people mingled with each other, the magician and the chef himself when he came down to meet the guests. The evening ended on a high note as all attendees left feeling pampered by the food and stunned by the Rosen's special brand of illusions.
About 7UP Pakistan
7UP is a lemon and lime based beverage that has always been at the frontier of taste and pop culture. 7UP is the market leader in its category and is widely liked by Pakistani consumers as the perfect drink to wash down their food with and to refresh themselves with on a hot summer day. 7UP is also among the first sodas to introduce sugar-free and caffeine free options. The crisp taste of 7UP delivers on natural lemon and lime that Pakistanis absolutely love. With no caffeine and 100% natural flavors 7UP is always refreshing.