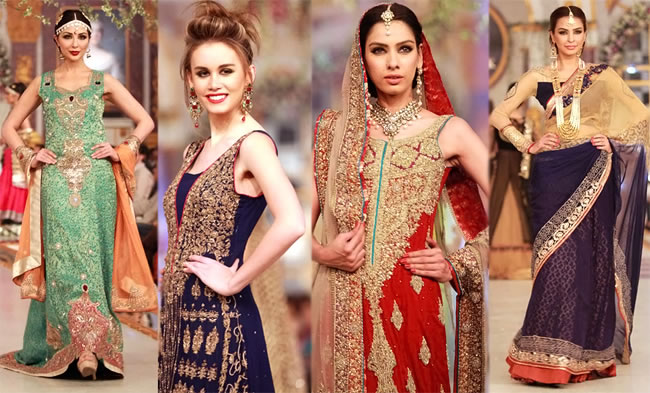 Pantene Bridal Couture Week by Style360 opened as always with a change in the set décor. Fresh flower arrangements lined the T-junction of the ramp, as well as the arches in the backdrop, enhancing the beauty of the flower chandeliers.
The First segment of Show One was opened by Kuki Concepts who presented a beautiful and colourful fusion collection. He was followed by Uzma Babar whose clothes were all about shimmer and sheen. Her showstopper was donned by Noor, Ahmed Ali Butt and Fatima. The jewellery was designed by Sonar Jewellers. A lively performance by Shiraz Uppal who was dressed in an Imran Mehdi came next.
Aisha Imran whose chunri and gota work collection was a tribute to Reshma followed. The jewellery worn by her models was by Iqra Jewellers. Her showstopper was donned by Resham. Closing Show One was Rani Emaan. Her showstoppers were donned by AYT, QYT and Shaista Wahidy. Her models' jewellery was by Sonar Jewellers and Tariq Jewellers.
Show Two opened with a special Hair and Makeup presentation by Nina Lotia, brand Ambassador for Pantene. The dance choreography for this segment was done by Wahab Shah while Honey designed the accessories and Noman the outfits. Mehdi followed with his enthralling collection of exquisite bridal wear and menswear. Iman wore his gorgeous showstopper.
He was followed by Asifa and Nabeel who showcased their fusion wear collection. Shiraz Uppal donned their showstopper. Samreen's Closet came next with their jewellery collection comprising, naths, tikkas, jhumars, necklaces, long earrings, etc.
Shehzad Disaster performed a highly enthralling dance with LED lights just before HSY closed the show on a sensational note. With an extension of his tribute collection, his muse this time was no other than Tahira Sayyed who came on the ramp and sang her songs live for his four different collections. The show ended on a high note with sparklers going off.