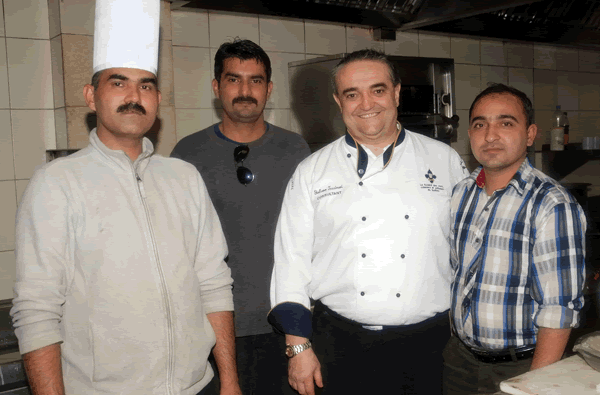 7up Chef's Bonanza officially began on 3rd December'13 Chef at Chameleon, Royal Palm with an exclusive sit down dinner. International chef Giuliano Tassinari having settled well into the kitchen presented guests seated in the restaurant with a selective but delicious menu, with choices ranging from soups to desserts adding up to a complete 3 course dining experience.
All this while Malaysian magician Rosen Roy kept guests entertained during their meal. Soup choices included bean soup with pan fried shrimps and pasta or fresh vegetable soup with basil pesto, while salads were a delicious choice between penne pasta or Italian rice.
The main course included a choice between Red Snapper served with black olives, cherry tomatoes, fresh asparagus and shrimp sauce or a yummy rack of lamb with honey sauce, rosemary scented mashed potatoes and seasonal vegetables. To finish off the evening guests had a very difficult choice to make between the star anise panna cotta with strawberry sauce or the tiramisu with coffee cream and almond powder.
Laughter and applause emanated in the restaurant throughout the evening as guests could not contain their delight at the magician's awe inspiring tricks. The restaurant was filled with warmth and chatter as people met and mingled with the star studded diners. Some of the prominent guests included: renowned designer Kamiar Rokni, Overload's drummer/singer Farhad Humayun, Good Times (GT) Publisher Mira Sethi among others. It was a truly memorable evening as guests rejoiced at the opportunity to be able to enjoy an authentic Italian meal accompanied with magic tricks that left one dumb founded.
About 7Up Pakistan
7up is a lemon and lime based beverage that has always been at the frontier of taste and pop culture. 7up is the market leader in its category and is widely liked by Pakistani consumers as the perfect drink to wash down their food with and to refresh themselves with on a hot summer day. 7up is also among the first sodas to introduce sugar-free and caffeine free options. The crisp taste of 7up delivers on natural lemon and lime that Pakistanis absolutely love. With no caffeine and 100% natural flavors 7up is always refreshing.