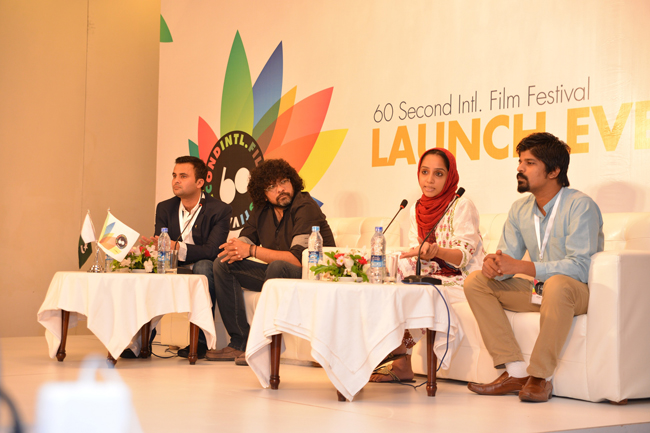 60 Second Intl. Film Festival is an initiative conceived by Morangofilms, in partnership with duck, keeping the aim of helping youth create content based on issues of social significance. The festival aims to become an annual feature, reaching a global audience and in the process, work on capacity building by introducing topics/categories that would eventually lead to better governance.
The team of 60 Second Intl. Film Festival had undertaken the task to build the capacity of youth and general public by creating a learning platform in the form of the 60 Second Intl. Film Festival. This initiative was truly for individuals and groups to bring up their work that explained the pressing issues faced in Pakistan today. The emphasis in this festival would remain on quality 'content' and it will not restrict itself to professional film-makers only. Through collaborations, the festival aims to create a socially aware and active talent pool. Categories are centered on a range of social issues, including Peace, Interfaith, counter terrorism and extremism, Tolerance, Gender disparity, Health (with a focus on HIV/AIDS), Environment, Water, Innovation, Education, Energy and Pressing issues such as poverty and hunger.
First festival concluded in February 2013, but the screenings continued. Our recent venture included a screening in Nepal and Sri Lanka, and the third screening is soon to be scheduled for USA. Thus, in view of the receptive tendencies and awareness in Global youth, we have decided to expand the initiative to benefit an expansive group by formulating effective global partnerships.
After receiving such an outstanding positive feedback internationally of 60SIFF, has decided to conduct workshops based on documentaries, screenings, and have various brands also collaborate to have campaigns using 60-second Film Festival's support. 60SIFF has now expanded its horizons, it was first aiming at covering particularly all South Asian countries; However now it will be organizing events around the globe, beginning with USA, UK, Australia, Turkey, Maldives, etc. and many other countries.
The Festival will call for entries all over from 1st September 2013, and the Deadline for submission will be 30th October 2013, after submission voting will take place for 15 days, and then popular video will be shared with Jury and result will be announced on 15th of December 2013. The final screening and award distribution will be held around last week of December, series of multiple screening will begin from January 2014 onwards.
So where ever you are, whoever you are, if you have a story to Yell so 60 Second Intl. Film Festival is the platform, where we all work together to bring Peace and prosperity around the globe.