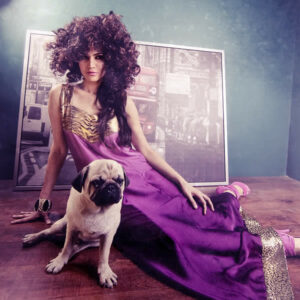 You don't always have to be rich to look good or fashionable. Globalization has impacted street fashion as well and there are more ways than one to get on the fashion bandwagon.
Everybody knows that peplum is here to stay. Blair Waldorf wouldn't have been caught dead in something that didn't set a trend immediately. Any where you live and you spot a dress that will look good on you, march to the local tailor and get the outfit stitched. Having a lot of money doesn't always need to come in the way of fashion.
Apart from the price of the dress at a high-street brand, it is important to get the right fit," says Afsheen Mehboob, a renowned designer, who prefers to design her own clothes and shop intelligent, instead of hitting the malls. A walk through Karachi's Dolmen mall or Mall Road in Lahore is all one needs in order to get a pulse on an eclectic, fresh, not-so-original but seamlessly international phenomenon called street fashion.
Apart from popular cinema, magazines and blogs are emerging as an important medium that seek to guide fashion lovers of all backgrounds and budgets. "People are sharing ideas on social networking portals and blogs," says Aisha Alam, a famous designer. But the numbers are small.
Less than 30% people in Pakistan follow latest trends, points out Karachi-based fashion designer Najma Shah she feels that Pakistani are not far behind the global benchmark of international street fashion compared to the Americans, European and Indian counterparts. "In Pakistan, fashion is very subjective. You may find a girl wearing only western clothing in Karachi, another girl in Lahore may wear block print cotton Kutas. Both stylish, but different," says Najma Shah.
It has been noted that people rush to buy a certain fashion article which is fashion or just hit the shelves of famous retail outlet. "The article itself is not that expensive but the uncanny demand for that creates a hype and price shoots out of the roof", said Najia Malik, a talented young designer. People should wait for the time and heat to cool down as they can find substitute for the original at an economical price.
Colored denims, quirky prints, palazzo pants, crepe dresses with butterflies, polka and little hearts, boat shoes or wedge heels are in vogue this summer. Street fashion in Pakistan is evolving fast and is a reflection of Pakistani sensibilities, colors, designs, embroideries and textures from different places of the country, mixed with western fashion. "Pakistani mix East and West fashion instead of donning one look," says Ruby Shakel, a celebrated fashion designer of Pakistan. An embroidered kurti paired with denims often leaves more impact that a plain western shirt, she adds.
People who visit the market regularly and spend long hours doing shopping have been found saving money at making latest fashion clothes and accounts for giving better advices. "If you don't look hard and enough then you will always end up buying an expensive article, the trick is to shop smart and look at the right places", said Anney Naveed from Anns Impression, upcoming brand in the Pakistan fashion Industry.
Once designs hit the shelves of big stores and high-end stores it is always easy to copy them by going to your local tailor. Once those designs reach the organized retail market, it does not only make fashion clothing accessible to consumers at an affordable rates, but also helps the unorganized or fake marketers to produce copies at even cheaper price.