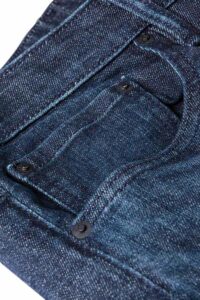 Bikers and biking enthusiasts across the country now have a reason to rejoice as Levi's® brings its most coveted Commuter Line to Pakistan. Levi's® Commuter jeans are specifically designed to provide ease and comfort to the biking enthusiast. With a wider, tapered leg for more room and just the right amount of stretch these are the perfect jeans for riding around in.
The Levi's® Commuter line's tapered leg prevents it from snagging in the bike chain while the soft, stretchy material makes it the perfect jean to wear for any outdoor activity.
The Levi's® Commuter 511 jean also boasts a number of other handy features such as being made using Sanitized Technology which allows long lasting protection against odors. The Performance Stretch Fabric is not only durable but also water resistant, dirt repellant and reinforced in the crotch, the back pockets and the belt loops for longer durability. The higher back rise in the 511 Commuter jeans not only sports a utility waistband but also provides additional coverage when cycling.
A great safety feature on the Levi's® Commuter 511 jeans is the 3M Scotch-lite Reflective Tape present on the interior cuff of the pant leg, which makes it even more perfect for riders across Pakistan.
To those who don't bike, this range fits in well as the fashion item to have as a part of your wardrobe, owing to its sexy look. Many celebrities are spotted wearing the Commuter line on various occasions. So head on down to your nearest Levi's® store today and purchase the perfect fit Commuter 511 Jean available in Performance Wine Tasting and Performance Finish 1.
About Levi's:
Levi's was created in 1873 and to this day are the most popular jeans worn around the world. They are the most successful and widely recognized jeans. Levi's provides its customers with the widest range of products possible because they believe in providing quality products and services.
It is through these quality products that Levi's earns the trust and loyalty of their customers' worldwide. Even though Levi's has been around for so long their commitment to innovation continues. They have been a part of history and change in the world and continue to be so.