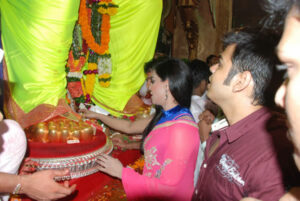 Ganapti Celebrations are celebrating grandly all over the country. During the Festival Lord Ganesh was visible in full Splendour in different Avatars, mood and Images. Mumbai is famous for Ganesh celebrations. Lalbaugcha Raja is the most famous Savrvajanik Ganapati in Mumbai.
Every year many Bollywood celebrities visit Lalbaugcha Raja to seek blessing, Bollywood actress Veena Malik also visited Lalbaugcha Raja where she offered prayers for someone special and success of her upcoming movie "Supermodel" which is going to release on 27th September. Veena's looking gorgeous in full Indian traditional Pink Sari and was seen touching feet of Ganpati Bappa.
Veena Malik said, "I feel very happy to visit Lalbaugcha Raja which is known as a Navsacha Ganpati (which means the fulfiller of all wishes). I offered Prayer to seek blessing for one who is very special for me and the success of my upcoming movie." Lalbaugcha Raja has always been a major attraction because of its iconic Ganpati idol.