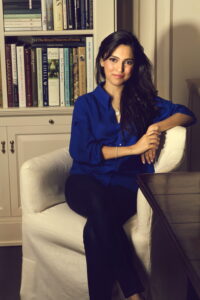 Acclaimed designer Nida Azwer has announced her label's participation in a series of international fashion events featuring the launch of the brand's new collections, fashion shows and exhibitions across India, USA, Singapore and the Middle East in the first half of Autumn/Winter season 2013.
From 22nd to 26th August 2013, Nida Azwer will showcase her ensembles across the border in Delhi with an exhibition of the brand's "Willam Morgan and Morris" and Eid Collections, along with other designers from Pakistan. The five days exhibition will be held at Crescent Mall, New Delhi, India and will be open from 11:00am to 7:00pm.
Further, the label will be participating in Fashion Pakistan USA 2013 scheduled to be held on 31st August 2013 in New York where the label will debuting their new formal wear collection titled "Kashani." The collection is inspired by the floral and figurative tile work reflective of the Mughal period. The new line incorporates varied shirt lengths which include classic kurtas to Nida's signature angharka's and flowy coats. Nida has used fabrics such as silks, chiffons and maisuri featuring fine zardozi, resham and kamdani work. The exhibited collection will also be available at the brand's Lahore and Karachi stores. Fashion Pakistan USA will be followed by 2 two day exhibitions in New Jersey and Los Angeles each where the designers will be retailing the collections exhibited earlier in New Delhi and New York.
Speaking about her brand's international tour, designer Nida Azwer said, "The success of platforms such as Pakistan Fashion Week and PFDC Sunsilk Fashion Week have created heightened exposure for local designers who are now being approached by international fashion councils and associations to participate in their global exhibitions. It's good to know that Pakistani fashion is resonating well with the international fashion community and that the demand for Pakistani fashion is strong in international markets. The Nida Azwer brand has a busy two months ahead of it but I'm sure it will be a productive and eye-opening experience!"
Later in September, the label will be participating in two fashion shows; one in Chicago being held on the 6th of September with the other being the Ishq-e-Fashion show in Singapore on 14th September 2013. At the Chicago show, the brand will be introducing its new Eid collection titled "Wazir Khan Collection" in time for Eid-ul-Adha. Inspired by Persian artworks, the collection will feature numerous digital and screen printed tunics, jumpsuits and angharka's in fun and vibrant colour palettes on luxe fabrics such as cotton net, chiffons and silks. For this particular collection, the designer has introduced laser cutting techniques with slight embellishments to inculcate a festive feeling in the outfits. This collection will also be available at the brand's retail stores by the end of September 2013.
At Ishq-e-Fashion Singapore, the brand will be showcasing a new pret wear collection titled "The Rangeen Collection", encompassing a fresh colour palette featuring fresh pastel pinks, vibrant tones of pinks and oranges highlighted with accents of green and blue. The collection will predominately consist of varying lengths of shirts in cotton net, chiffons and silks and will be available in all Nida Azwer outlets from 15th September onwards. The brand will also hold an exhibition in Dubai on 1st October 2013.