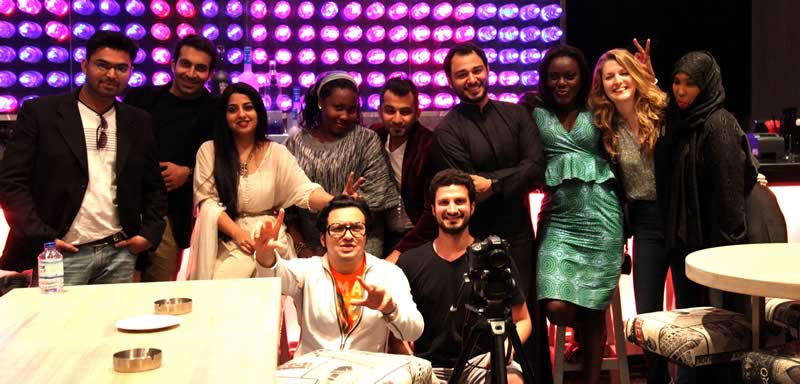 "Nazia Hasan literally gave birth to the pop music industry of Pakistan & the sub-continent. It seems the field of music chose her for itself, not the other way around." says Faraz Waqar the Director of 'Imagineer' – A Music film Tribute to Nazia Hasan on her 13th Death Anniversary that is to be presented for release this August 2013 to all music TV channels  in Pakistan.
"In Pakistan we have never learned to give our legends the importance or the honor they deserve. This tribute in the form of an experimental and unusual music video based on the magic of Nazia Hassan's own music is my personal tribute to her on her 13th Death Anniversary."  Says Faraz. "Do you know the first music videos ever made in the sub-continent were for Nazia Hasan's songs?"
The new Pakistani filmmaker Faraz Waqar has Produced & Directed the music film as a tribute to Nazia Hasan which has been shot entirely in the United Arab Emirates and involves an international team of models, actors, cinematographers & editors from India, the United Arab Emirates, Switzerland, Nigeria, Palestine and Kazakhstan.  Faraz Waqar hopes that fans of Nazia Hasan's music as well as her family & friends will appreciate this personal tribute to the magic of her evergreen music.
Faraz was congratulated internationally by the management of the New York Film Academy both in the Middle East and in
the United States in the year 2012 for his film '9:11 am'. His achievement was highlighted on Social Media channels by the New York Film Academy in both the UAE and the US.
Faraz Waqar considers the Pakistani Director of the films 'Khuda key liye' and 'Bol', Shoaib Mansoor as his main inspiration. "Reviving the film industry in my own country and making films addressing the various social and political issues facing the Middle East & South Asia has always been my goal," says Faraz.