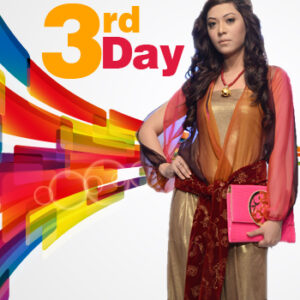 As Eid ul Fitr seems as a gift by Allah at the end of Ramadan. Every body gets excited in searching the sky for the next full moon on 29th or 30th of Ramadan and when the full moon is spotted, the whole community wishes each other by saying "Chand Mubarak".
There is also a tradition of sending Eid greeting cards or eid greeting emails to distant family members, relatives and friends but in recent past, whishing eid through sms/mms getting more popular.
After wishing chand raat, people gets rush into markets and malls to complete their eid preparations. Women rushes towards tailor for their suits and parlors to take Mani cure, Pedi cure, facial etc. Girls' starts matching their bangles, jewelry, shoes compliment their eid suits. Although tradition of applying mehndi on hands and feet is too old in Eid but it is still popular in modern era for every class of women and girls.
They love to get different styles of mehndi Indian, Arabian, Misery or just round stamp at centre of the palm and finger tips. Guys also not behind them, they visit to barber to get different hair cuts and hair styles. Although this activity is little hectic but also enclose with excitement and fun before Eid day celebrations.
Now next morning, the first day of eid, everybody gets up, take bath, wear their new cloths and have little breakfast. After that women offer eid namaz at home to worship Allah and men attend special Eid UL Fitr ceremony which is carry out in mosques or in an open area under the sky where the worshipers bend forward on their prayer mats, press their heads against the ground, do "sajda" and raise their hands high calling 'Allah is great'.
Then they greet everyone by saying "Eid Mubarak" which means happiness to everyone. An important activity of giving "Zakat al Fitr" is must. This is supposed to give obligatory charity on behalf of each of their family member to the needy or poor before Eid day or at least before Eid prayer. This will allow everybody to share the joy of Eid and won't feel depressed.
After "Khutba" and eid prayer the celebrations of Eid begin in full swing .After returning from the mosque, families greet each other by wishing "Eid Mubarak". All younger gets "Eidi" in terms of money from their elders and say "Adaab". On Eid day kids are allowed to spend their gift money (Eidi) as they want.
Eid gifts are also exchange between teenagers. Then women decorate dining with flowers, candles along with delicious food on Eid day and we Pakistani knows eid is incomplete without having famous traditional meetha "Sheer khorma" on dining. Other items like sweets, cakes, kachorian and kababs also add colors to dining. The period of wishing family, friends, relatives and eating goes throughout the day.
Normally people visit their relatives in evening and enjoy family get together by making Bar-B-Q, Sajji, or other traditional food items includes biryani, pulao, qorma, fruit trifle and sweets along with music. Families also makes plans how to celebrate second and third day of Eid. Children enjoy eidi and love from their relatives' whole day. All and all everybody smiles heartily on Eid day.
As these celebrations of Eid extend to three days of enjoyment so musical functions/ concerts, function of qwalis, parties also arranges by families and at outdoors by professionals on first, second or third day.  Children also play different games and gets small gifts in these types of functions.
Some people go to parks, sea side, river or lake fronts to enjoy and relax. Media also covers Eid festivities all day and airs various special programs on TV for all age groups. Eid brings lots of exciting activities and enjoyment with itself. At the end "Eid Mubarak" to all of my Muslim brothers and sisters from my side. Have happy eid!