Leading hair and skin care brand Garnier collaborated with premier designer textile house Kayseria to celebrate Eid through a dynamic "Color Party" with Eid shoppers and revelers at the Kayseria outlet located at HKB, Liberty, Lahore.
The event featured a small fashion presentation where five enterprising female students showcased the new Garnier Color Naturals Nourishing Chocolates Collection while wearing outfits from Kayseria's latest prét collection. The event was attended by esteemed members of the press and shoppers visiting HKB ahead of Eid.
The hair and styling for the girls was provided by ISIS- The Beauty Lounge, run by Alieya Aftab. Photography and videography was undertaken by Pinhole studios with PR managed by Lotus Client Management and Public Relations.
In celebration of this festive season,Eid shoppers, patrons and visitors were provided the opportunity to experience one-on-one professional fashion and style consultancy with Kayseria's Art Director Waleed Zaman at the clothing brand's outlet. Garnier also showcased their latest range of Garnier Color Naturals Nourishing Chocolates collection while Kayseria presented their latest Prét collection at the unique event. This range of hair color shades has special appeal for young female users, as it aptly complements a fun, carefree and energetic lifestyle.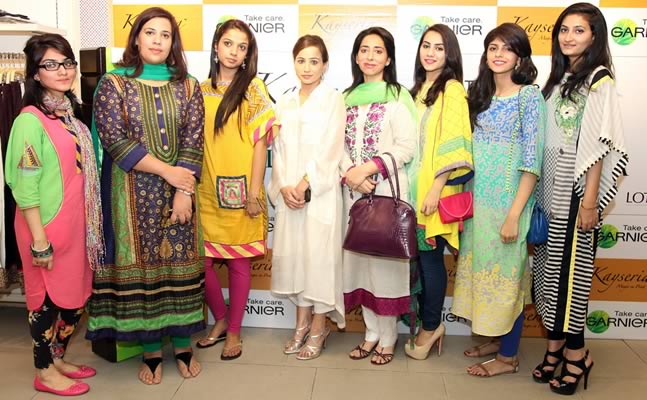 In addition to this activity, patrons at all Kayseria outlets have an opportunity to receive instant 'Eidi' in the form of gifts, including products from the Garnier beauty and hair-care range, on shopping worth PKR 4,000.This special Eid promotion will last till September 2013.