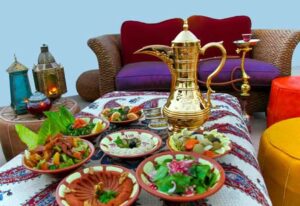 Sehri also called as "Sehur" is a meal consumed by all Muslims early in the morning before Fajr prayer. Sehri is very important and same is the case with Sehri meal. Sehri meal is important because after having Sehri meal Muslims have to refrain from consumption of all type of foods and drinks. Therefore Sehri meal must be healthiest which gives you potential so that you can spend your whole day without eating and drinking.
Paratha is the most demanding food item especially in Sehri. Paratha has also become the part of our tradition. Different types of parathas are prepared for Sehri meal including potato parathas, chicken parathas and many more. If you want to try something change then I must suggest you to go with chicken kabab paratha roll. It is as healthiest as a paratha.
This is very simple recipe and similar to fast food chain outlets but with a little desi touch. A mouthwatering recipe of Chicken KababParatha Roll is waiting. You must try it in your Sehri meal.
Recipe of Chicken Kabab Paratha Meal
Ingredients that you will need to prepare chicken kabab paratha roll are:
Plain flour ½ gram
Salt 2 tsp
Oil ½ cup
Boneless chicken ½ cup
Turmeric ½ tsp
Red chili 1 and ½ tsp
Lemon juice 4tbsp
Cumin seed 1 tbsp
Garlic 1 tbsp
Ginger 1tbsp
Onion 2
Tomato 2
Coal 1 piece
Cooking direction
1. First of all, knead the plain flour and make a bread (paratha).
2. Chop chicken boneless into small pieces.
3. Now add salt, ginger and garlic paste and lemon juice in it.
4. Also add turmeric and red pepper.
5. Mix the chicken well in these spices.
6. And marinate it and leave it for about an hour.
7. Now heat oil in pan and fry chicken pieces in it.
8. Heat the coal piece on flame.
9. Put the fried chicken in another pan and also place heated coal piece in the middle.
10. Cover the lid for five minutes.
11. After five minutes remove the coal piece and mix the fried chicken well.
12. Place fried chicken on the bread (paratha).
13. Add finely chopped onion and tomato on it.
14. Also add coriander and tamarind dip on it.
15. Roll the bread (paratha) and serve.
Serve hot and aromatic chicken kabab paratha roll with tomato sauce. Enjoy the sizzle of traditional spices and aroma.
Sehri Drink
Recipe of fruity milk shake
For Sehri drink here is a recipe of fruity shake that will energize you.
Recipe ingredients are:
Milk 250 gm
Pineapple juice one cup
Banana 2 (mashed)
Honey 4 tbsp
Desi egg 1
Cinnamon powder a pinch
Procedure:
Take two mashed bananas, pineapple juice, honey, egg and milk and cinnamon powder in grinder. Grind all these ingredients to have a fine mix. Pour them in glass and serve them.
It is a quick recipe and full of necessary nutrition and healthy fibers that will keep you energize whole day. It is best way to beat the heat and will keep you hydrated during fasting. This healthiest drink is best for Sehri and assists you in coping with the long day ahead.
But don't forget the importance of water besides this drink. Drink plenty of water both in Iftar and Sehri to fulfill your all day requirements for water.