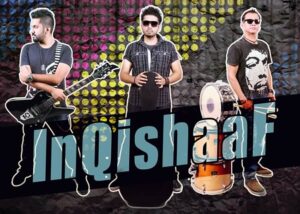 InQishaaf's song Belagaam is part of the soundtrack for the new action-comedy animated TV series, Burka Avenger, set to air this coming Sunday, 28th July'13 at 6 p.m.(PST) on Geo Tez. Because of the song's rawness, Belagaam is used in the series' fight sequences.
InQishaaf's Shariq Khan speaks about Belagaam and his feelings on having it become a part of Burka Avenger: "Belagaam talks about raw aggressive adrenaline pumping action and nothing else. I think this is why Burka Avenger picked it up for its fight sequences.
When I made this song 2 years ago I wasn't sure of its destiny but now that it's a part of what is probably the biggest cartoon series to come out of Pakistan we feel extremely proud! Burka Avenger has artists like Haroon, Ali Azmat, Ali Zafar, Josh, QB, Adil Omer & Jarrar associated to it. Standing in the same category is pretty awesome!"
Shariq Khan, InQishaaf's composer and guitarist, has also directed Haroon & Adil Omer's music video "Lady in Black", for this series through his production house, Incision Films.
Speaking as the Director for this video Shariq says:"I feel privileged as a director/founder of Incision Films that Haroon trusted me with his song. My team & I put in a lot of careful planning before we went in to the shoot. It was a lot of fun working with Adil and Haroon. They are both extremely professional and dedicated individuals. Lady in Black is definitely the most amazing theme song for a cartoon."
Other artists featured in the soundtrack include Ali Zafar, Ali Azmat, Haroon, Josh, Adil Omer and many more.