Pakistan's leading hair and beauty care brand Garnier, is ushering in Eid festivities early by holding an interactive Mall Animation at Dolmen Mall, Clifton in Karachi from 29th July, 2013 until Chand Raat in celebration of their latest Garnier Color Naturals Nourishing Chocolates Collection and the Garnier BB Cream.
Helping beauty and skin-care consumers look their very best in time for Eid, Garnier will be unveiling its latest Garnier's Nourishing Chocolates Collection at the Mall Animation. The new collection of Color Naturals will be available in three shades; Cinnamon Chocolates (5.25), Chocolate (6.34) and Brownie Chocolate (4.15). Especially made for Pakistani hair, Garnier Color Naturals Nourishing Chocolates Collection is enriched with natural olive oil that nourishes your hair while you color and provides 100% grey coverage.

Mall patrons will also be provided an opportunity to experience the brand's popular Garnier BB Cream through exclusive 30 second make-over sessions taking place at the Eid Mall Animation. The Garnier BB Cream is a complete skincare solution where skincare meets makeup in a single tube. Just a single application of the product provides 5 immediate results – Evens Skin tone, Covers imperfections, Brightens, Moisturizes and Protects with SPF.
The brand's celebrity spokesperson, Juggun Kazim will also be present on the occasion to impart expert beauty advice and educate mall patrons on different hair care techniques and best practices. Renowned dairy chocolate brand Cadbury will also collaborate with Garnier Color Naturals Nourishing Chocolates Collection on this event.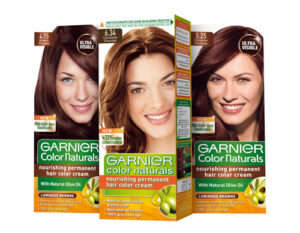 Speaking about the Mall Animation, Juggun Kazim the local spokesperson for Garnier said, 'Eid is a very exciting occasion in Pakistan and a time when women like to look their dazzling best! As a woman who takes meticulous care in maintaining her hair, I can safely say that making sure your skin & hair color looks great is equally as important as choosing your special outfit for Eid.
Garnier Color Naturals Nourishing Chocolates Collection and the BB cream will really accentuate your looks over Eid. Not only does it contain olive oil which provides nourishment, but it adds that spectacular lustre to your hair which really makes it shine. I look forward to sharing the Nourishing Chocolates Collection with visitors at the Eid Mall Animation. See you there!'
Speaking about the launch of the Garnier Color Naturals Nourishing Chocolates Collection, General Manager of the CDP Division, Moazzam Ali Khan said, "As a brand, Garnier firmly believes in the philosophy of Taking Care. Our signature Eid Mall Animations are always something to look forward to, as they provide us an exciting opportunity to unveil our latest beauty and skin care innovations and allow us to add our own unique touch to the festivities surrounding Eid. Our newest range of Garnier Color Naturals Nourishing Chocolates Collection is sure to appeal to our discriminating patrons who like Garnier, value quality, results and budget. We hope to see you at the event."