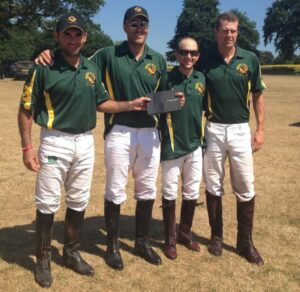 Continuing his strong run of form this season, b, Pakistan's leading polo player, and Team Golden Falcons defeated Team EFG Bank Aravali 7-5 in the Subsidiary Finals of the Coworth Park Challenge polo tournament. The Golden Falcons previously played EFG Bank Aravali in the preliminary phase of the competition, losing by a single goal (7 -8) to the team in a league match.
After winning 2 out of their 3 league matches in the tournament, the Golden Falcons secured a Subsidiary Semi-Final berth where they defeated Ferne Park (10-9) for a place in the Subsidiary Finals. Hissam Hyder previously played Ferne Park in the Final match of the Royal Windsor Cup 2013 where his team fell short by a single goal.
The Coworth Park Challenge is a prestigious mid-goal (12-15) tournament and featured a strong line-up of the game's best international 6 and 7 goal handicapped players. Hissam Hyder was one of two 6 goal handicapped players in Team Golden Falcons and played alongside James Harper (6 goal), Miguel Gutierrez (3 goal) and Amir Badr El Din (0 goal) in the tournament. Hissam and the Golden Falcons will next be participating in the Jaeger-Le Coultre Harrison Cup, another prestigious mid-goal tournament, starting from Monday, 22nd July 2013.