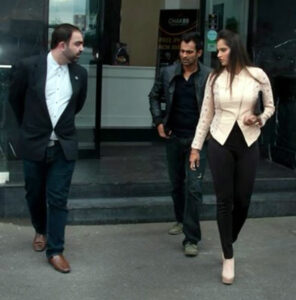 The much speculated cross country international athlete couple – Sania Mirza and Shoaib Malik has always caused much speculation and this time it's with the artistic and inspiring fashion photographer Adnan Qazi that they were spotted exiting a restaurant in London.
The Pakistan Fashion Industry has established itself and is now expanding beyond the generic boundaries, experimenting with new concepts and faces. The spanking new photographer Adnan Qazi who is one of the most illustrious Pakistani fashion photographers working in London made his filmmaking debut by directing the hit single music video "Hamesha".
He is popular for capturing breathtaking fashion shots in a single frame and in the image can be seen deep in talk with the stylish couple. Sania Mirza in tow with her cutie of a husband is as she is most of the time dressed to perfection; with a slim fitted light pink jacket and black skinnies.
She is even wearing the same shoes as the spicy style diva Victoria Beckham. Adnan recently moved back to Pakistan after completing a diploma in filmmaking from the New York Film Academy. He has shot many celebrity fashion shoot's before including Humaima Malik and Ali Zafar and by the look's of it might be brain-storming for another one.
It is always interesting to see the creative people come together even if it's for a cup of coffee or a brilliant new project. Keep guessing!!