After the success of their Atlanta and Florida exhibitions in June, the Ayesha-Somaya design duo of Ayesha Sohail and Somaya Adnan are set to launch their Eid Collection with an exclusive Eid Exhibition on Wednesday 17th July, 2013 titled "Serenity".
The one day exhibition comprising of Luxury Pret and Semi-Formals will be followed by a showcase of their Eid collection available at all Ayesha-Somaya stockists nationwide during the last ten days of Ramadan.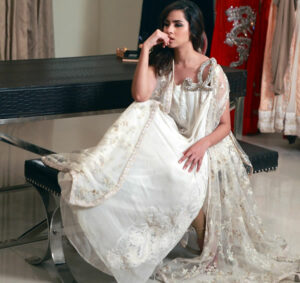 The Ayesha-Somaya Eid Exhibition will run from 12 PM to 6 PMon17th of Julyat the Ayesha-Somaya Design Studio and Flagship Store located on Commercial Street, Phase 4 of DHA in Karachi. Prices range from Rs. 15,000 to Rs. 30,000 for outfits in Ayesha-Somaya's Luxury Pret and Semi-Formal collections.
Speaking about the Ayesha-Somaya's upcoming Eid exhibition, Ayesha Sohail and Somaya Adnan said: "Our Eid Collection is focused on feminity and elegance, interpreted both within the Eastern and Western aesthetic. Join us for
a showcase of filigree laces, mesmerizing prints and classic embroideries. Why not make your Eid even more memorable with a special outfit from Ayesha-Somaya's Eid Collection?"
Indeed, in only four short years, the Ayesha-Somaya brand has come to be known for their feminine and elegant designer wear, encapsulated within their collections range, including Pret Wear, Haute Couture and Cocktail to Smart Casual Wear (BASICS) along with their annual collection of designer lawn.
The Ayesha-Somaya Design Studio and Flagship Store is based at 13-C, 1st Sunset Commercial Street, Phase 4, DHA, Karachi and is available nationwide at Brands Just Pret stores in Karachi & Dubai, Melange in Islamabad, Fashion Pakistan Lounge in Lahore, Concepteurs Lounge in Peshawar, House of Pashu in Multan and Labels in Faisalabad.