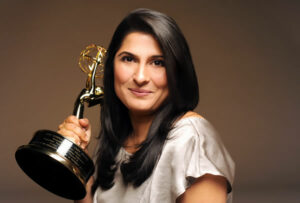 Academy Award winning Pakistani film "Saving Face" has been nominated for five Emmy Awards including, Best Documentary, Outstanding Arts and Culture Programming, Outstanding Research, Outstanding Cinematography: Documentary and Long Form and Outstanding Editing: Documentary and Long Form at the prestigious 34th Annual News & Documentary Emmy Awards organized by The National Academy Of Television Arts & Sciences.
The 34th annual News & Documentary Emmy Awards will be presented on Tuesday, 1st October at an elegant ceremony at Frederick P. Rose Hall, Home of Jazz at Lincoln Center, located in the Time Warner Center in New York City. The event will be attended by more than 1,000 television and news media industry executives, news and documentary producers and journalists.
Speaking about the Emmy nominations, film director Sharmeen Obaid-Chinoy said, "This is not the first time one of our films has been recognized by the National Academy of Television Arts and Sciences, having previously won an International Emmy Award in the Current Affairs category for the documentary 'Pakistan's Taliban Generation', but I must say that the feeling of elation and nervous excitement still remains the same! It really is encouraging to know that Saving Face has received such a tremendous international response. I hope that we can make Pakistan proud once again with another Emmy. Fingers crossed!"
Sharmeen Obaid-Chinoy will be attending the prestigious awards distribution ceremony in October, previously missing the opportunity to attend the event when her film "Pakistan's Taliban Generation" won in 2010 due to the sudden demise of her father, to whom she will dedicate the Emmy should Saving Face win this year.
The nominations are also indicative of the quality of talent being produced by the local Film and Arts industry as another Pakistani, cameraman Asad Faruqi, cinematographer and director of production at SOC FIlms, joins Sharmeen Obaid-Chinoy in securing an Emmy Award nomination excellence in cinematography in the category Outstanding Cinematography: Documentary and Long Form.
Saving Face has achieved significant acclaim in the international film and arts community and has garnered many illustrious awards including the eminent Academy Award (Oscar), IDA Documentary Award, Juliane-Bartel Award, Germany, Abu Dhabi Film Festival Audience Choice Award, New York Indian Film Festival "Best Documentary Film" and the SAARC Film Award for "Best Documentary".
Saving Face chronicles the work of acclaimed British Pakistani plastic surgeon, Dr Mohammad Jawad as he travelled to Pakistan and performed reconstructive surgery on survivors of acid violence. Acid violence, an extreme form of physical abuse, is systemically under reported in Pakistan; official figures state that 150 cases of acid violence are filed every year, though it is estimated that the actual figure is far greater.
Saving Face is an account of such violence told by survivors through their personal journeys of endurance, recovery and reconciliation. The observational documentary was filmed entirely in Pakistan, primarily in the Seraiki belt in addition to Rawalpindi, Karachi and Islamabad.
Credits:
HBO Documentary Films
Saving Face
Executive Producer
Sheila Nevins
Supervising Producer
Lisa Heller
Producers
Davis Coombe, Alison Greenberg, Sabiha Sumar
Director / Producers
Daniel Junge, Sharmeen Obaid-Chinoy
Researchers
Daniel Junge, Sharmeen Obaid-Chinoy
Camera
Asad Faruqi, Aaron Kopp, Daniel Junge, Martina Radwan
Editors
Davis Coombe, Hemal Trivedi