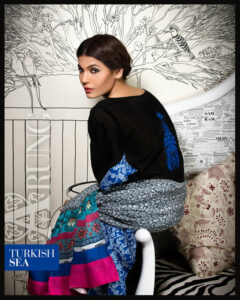 ARUNG, ocean of colors, promises a fresh look at what is fashionable, yet unexpectedly unique in its appeal. The new brand is showcasing its debut collection of 10 stunning color-blocked designs using soft cotton and silk fabrics in complimentary tones. The select combination of woven textures and print motifs is bound to make this EID season more fun and exciting for all.
The brand is created by seasoned professionals with years of experience in textile manufacturing industry. The result is a collection that not only promises a fresh, young and elegant range of dresses, but is also bound to please the quality conscious client. With a price ranging from Rs. 4,800 and Rs. 5,500 this is probably the best your money can buy both in terms of value and variety and a break from generally available print lawns in the market.
Soon after this launch of unstitched dresses, the brand will be available ready-to-wear. Distribution is planned thru leading retail stores and on-line portals reaching customers nationwide.
Khadija and Ubaid, with many national and international exhibitions to their name have designed this collection from ARUNG. Top Models will be showcasing at the launch event. Amna Kardar will be the host for the evening.