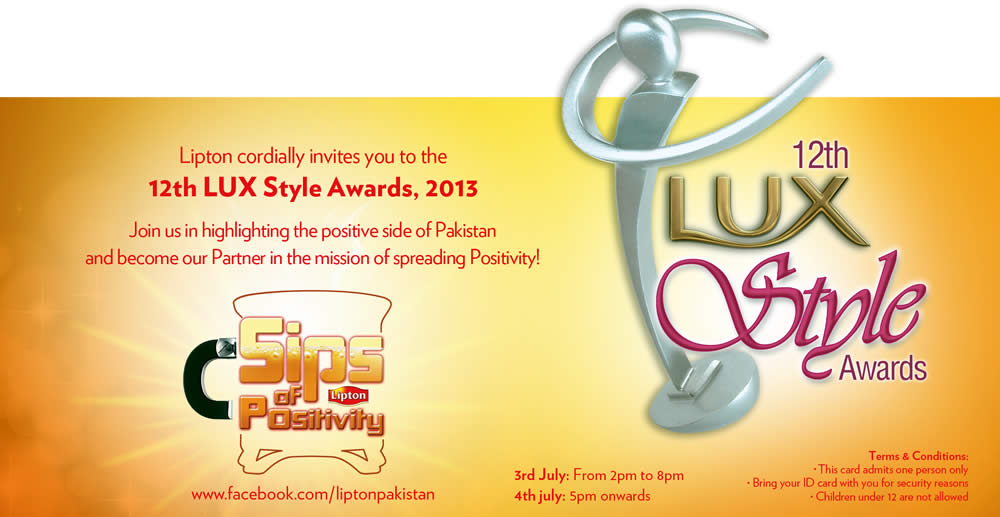 After their successful activation at the 6th PFDC Sunsilk Fashion Week, Unilever is set to unveil their latest on-ground activities by Magnum and Lipton at the 12th Lux Style Awards being held on 4th July 2013 in Lahore.
Patrons who participate in the Magnum activity will have a chance to win exciting prizes, including a Mercedes Benz SLK Sports Car and other luxurious gifts such as Louis Vuitton, Rayban, Hugo Boss and many more! The key elements of the on-ground activity entail a Mercedes Benz SLK 200 put on special display, a picture booth for guests and celebrities to take pictures with the Mercedes Sports Car and free sampling of Magnum for all at the event. Renowned supermodel Ayyan Ali will also be present at the event as Magnum's official brand ambassador.
Previously, Magnum engaged fashion enthusiasts with their highly acclaimed Magnum Cafe at the recently held PFDC Sunsilk Fashion Week 2013. The Magnum Cafe was hailed a unique concept that allowed consumers to make their own customized Magnum with unique condiments and a variety of flavours and toppings that were as simple as almonds and as adventurous as chilli flakes or rock salt!
Lipton, with its mission on highlighting the positive side of Pakistan, will be commemorating individual achievements under the campaign name of 'Sips of Positivity' to celebrate individuals who are picking causes for a positive social impact in Pakistan. Acclaimed television personality Ayesha Omar will also be present at the venue as a host for Lipton's unique activity and will help encourage people to focus on the positive side of Pakistan.
Lipton tea is the world's biggest tea brand and leads innovation & excitement in the tea category globally. Lipton has also previously conducted consumer activities at platforms such as PFDC Sunsilk Fashion Week.
Speaking about the activation at the Lux Style Awards, Mr. Munir Taufiq, Brand Manager of Magnum has said: "Magnum represents the epitome of luxury and pleasure which we will be showcasing through our consumer initiative with Mercedes Benz. Not only are our consumers getting a chance to have the most chocolate indulgent experience of their lifetime, but they also stand a chance to experience the most premium lifestyle brands, such as the Mercedes Benz SLK Sports Car, Louis Vuitton, Rayban and many more!"
Speaking about the campaign at the Lux Style Awards, Ms. Mona Hussain, Marketing Director Beverages – Unilever Pakistan said: "We are very excited to launch our new campaign 'Sips of Positivity' at the Lux Style Awards 2013. We, at Lipton, believe that life is about embracing possibilities with optimism and hence we have taken on a mission to highlight the positive side of Pakistan, especially highlighting the efforts of individuals who are paving the way for a brighter Pakistan.
At this event, we have engaged with so many talented people who are presenting a positive side of Pakistan the world over with their work. Where there is Lipton, there is hope!"