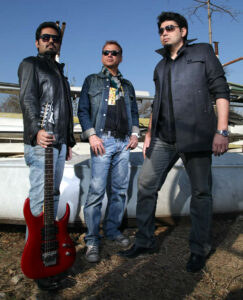 InQishaaf is a talented Pakistani band which has recently made it big in India and other countries, through the release of their second album by a top Indian record label. Their music has been so well received that they have topped various charts in India already.
In 2003, Shoaib Durrani, a dentist and vocalist, along with Shariq Khan, a media entrepreneur, guitarist and composer, kicked off their love for music by fusing together their distinctive musical tastes to form the band InQishaaf. In 2012 they became a 3 member band when Allan Smith joined them as drummer on their 2nd album 'Kissa'.
Talking about 'Kissa' Shariq says: "This is a progressive album and is very close to my heart as I brought Taimoor (producer) to my studio for the production of it. The song Jeewan is especially special to me as I had been in an accident at the time and having broken my arm could barely even play my guitar.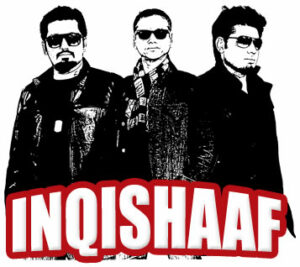 Shoaib, who was down at the time from Karachi, encouraged me to play and we used to jam on a nightly basis and that is how this album came together. Allan came on board with us during this album and taught us a lot more about our music. Kissa, the album, speaks about the happiness of the band and has a total of 10 songs on it."
InQishaaf released their debut album 'Khwaabon aur Khaak ki Kahani' in 2010/2011 in the three major cities of Pakistan, namely Karachi, Lahore and Islamabad. The album was produced with the help of music producer Mirza Taimoor Baig and was distributed by Sonic enterprises. InQishaaf's sound comprises a unique blend of soft ballads and alternative rock. It is a fusion of eastern and western influences. Their album 'Khwaabon aur Khaak ki Kahani' was the 2nd highest selling album for 13 weeks straight in Pakistan.
In 2011 the band appeared on the local Beenish Khan show 'Music is my life line' on Radio 1 FM91as well as various other shows on The Musik, Dawn, MTV Pakistan, Indus and FM 107 Karachi and ever since, their popularity has been steadily climbing. Hello! Pakistan also did an in depth article on the band in their 2012 October/November issue. In 2013 the band is lined up for various media interviews and gigs.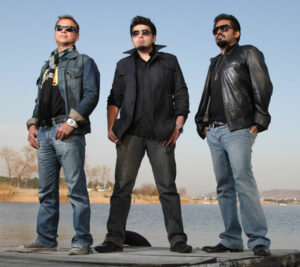 In 2012, InQishaaf accomplished a big step forward, by signing a contract with Times Music India for the release of their second album 'Kissa'. As a result, 'Kissa' was released earlier this year in India, Bangladesh, Sri Lanka, Bhutan and Nepal making InQishaaf a truly international act. Allan Smith in talking about his experience of joining InQishaaf at the time of the recording for their second album says: "I saw real talent and an opportunity to finally go international when I heard Shoaib and Shariq's music. I noticed a potential in them I haven't really seen before which is why I joined InQishaaf and took the initiative to take it international."
'Kissa' is InQishaaf's international album with an old school rock sound to it. It made it to the Top 5 best-selling albums on the No. 1 online shopping portal in India – oklisten.com. In April of 2013 InQishaaf was featured on MTV India on the popular show MTV Roots.
Last month The Times of India ran an ad in multiple cities across India advertising InQishaaf's new album. They have featured the band as the 'torch bearers for the Sufi pop sound that India loves from across the border.'
InQishaaf has commented on Oklisten.com regarding their album 'Kissa' describing it as being "the recognition of music, talent, art and expression that traverses every caste, creed, age and perspective. It converges at a cornerstone of emotions-the aggression for progress, the happiness in life, spirituality and so forth."
Times Music India has placed a lot of coverage of the band's international album and especially their song 'Bhoola Doonga' on their Facebook page. InQishaaf is also featured on the sites cover picture.
Anyone can take a listen to InQishaaf by downloading their songs from Nokia Music or musicfellas.com ABC