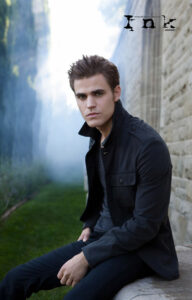 Staying true to its inherently international feel, Ink magazine has once again bagged an exclusive interview with a top global star. This time it is none other than actor Paul Wesley, who is extremely popular not just in Pakistan, but all over the world, for his portrayal of vampire 'Stefan Salvatore' on the hit TV series The Vampire Diaries. In June 2012, Ink also ran an exclusive interview with actor Ian Somerhalder, who plays the other Salvatore brother 'Damon' in the same series, making the issue an instant hit and sell-out.
In the upcoming exclusive interview with Ink, Paul Wesley talks about his role as 'Stefan', how he got into acting, his family, his relationship with his co-stars, his personal fashion statement, what fans can expect in Season 5 of The Vampire Diaries show, as well as many other interesting things. As if that isn't enough, he also answers fan's questions sent in to Ink via its Twitter account [twitter.com/ink_quarterly] and facebook page [facebook.com/ Ink.Quarterly].
 "We have always tried to provide the best content possible to our Pakistani readers, including exclusive interviews with international stars, in which questions being asked are from a South Asian perspective. We are extremely excited to feature Paul Wesley on the cover of our July – September 2013 issue and hope his fans in Pakistan enjoy the interview." remarks Ink's CEO, Fariha Rashed.
The new issue will be out end July 2013 and will be available at all major bookstores across Lahore, Karachi, Islamabad and Pindi. It will also be available at Masoom's in Lahore.
"Ink – Whatever Entertains You"
About Paul Wesley
Paul Wesley stars as Stefan Salvatore, the younger of two vampire brothers who share a long and bitter history, in the hit drama "The Vampire Diaries."
Over the years, Wesley has distinguished himself as one of Hollywood's hottest up-and-coming actors. He recently completed production on "The Baytown Disco," a crime dramedy in which he stars opposite Billy Bob Thornton and Andre Braugher. The picture recently wrapped shooting in Louisiana in May of this year and will be in theaters in 2012.
Prior to joining "The Vampire Diaries," Wesley had many memorable roles during the course of his over-a-decade-long career. Film credits include "Peaceful Warrior," opposite Nick Nolte, cult favorite "Roll Bounce" and Agnieszka Holland's HBO film "Shot in the Heart," among others.
His vast range of television credits include well-received recurring roles on series such as "Everwood," "American Dreams," "8 Simple Rules" and "24." He starred opposite Bryan Cranston in the highly rated "Fallen," a six-part miniseries based on the hit books by Tom Sniegoski. The story chronicles the journey of a young man (Wesley) who struggles to come to terms with his newly discovered identity as he is drawn into a world where angels good and evil walk among us.
He currently resides in Los Angeles and Atlanta, where he continues filming on "The Vampire Diaries."
Stefan Salvatore
The seemingly shy Stefan Salvatore constantly resists his bloodthirsty and violent nature because of his love for Elena and his desire for a normal life. He is haunted by his past crimes and struggles with his loyalty to a brother, Damon, who tries to destroy him.
THE VAMPIRE DIARIES
In the tumultuous fourth season of THE VAMPIRE DIARIES, the world of Mystic Falls was turned upside down when the beautiful and compassionate Elena Gilbert (Nina Dobrev) came face-to-face with her worst nightmare – life as a vampire. While Elena struggled to control her new powers and the overwhelming thirst for blood, the astonishing news that a cure for vampirism may actually exist reached Damon (Ian Somerhalder) and Stefan (Paul Wesley) Salvatore, the two vampire brothers who love her.
Their search for the cure leads the brothers, along with Elena's brother Jeremy (Steven R. McQueen) and her best friends Bonnie (Kat Graham) and Caroline (Candice Accola), to a horrifying confrontation with the ancient and all-powerful immortal, Silas, who has been entombed with the cure for more than 2,000 years. But Elena isn't
the only vampire who longs to return to life as a human, and the question of who will take the cure is resolved in the heart-stopping season finale, along with moments of unexpected joy, unspeakable sorrow, and a confession of true love. The series heads into its fifth season with some characters headed off to college, a newly cured vampire trying to survive as a human, and a shocking Salvatore secret.
Based on the series of books by L. J. Smith, THE VAMPIRE DIARIES is from Bonanza Productions Inc. in association with Outerbanks Entertainment, Alloy Entertainment, Warner Bros. Television and CBS Television Studios. The series was developed by Kevin Williamson ("The Following," "Scream") & Julie Plec ("Kyle XY," "Wasteland"), who serve as executive producers along with Leslie Morgenstein ("Gossip Girl," "Pretty Little Liars") and Caroline Dries ("Melrose Place," "Smallville").
About Ink
A quarterly South Asian, print & online entertainment based publication catering to Pakistanis an people all around the world. The magazine first launched in 2008 and has been going strong ever since. Ink sees itself as a publication that construes almost everything as being entertainment- hey, if it makes people react – its entertainment! It could be anything from media, public relations, events, people, issues, movements, to even advertising. Ink feels it a responsibility to promote the Pakistani culture at home, cultures abroad, as well as good work South Asians in particular are doing internationally.
Ink's Mission ~
Disjointed efforts by artists and commercial enterprises in this part of the world have resulted in sporadic bursts of mesmerizing entertainment. However, before these droplets of magic can fuse into a wave that defines the ebb and flow of our cultural identity and existence, external forces scatter them away. Indigenous talent either fizzles away due to lack of opportunities and roadblocks, or, is lured by greener pastures elsewhere, or, is corrupted by market and crass commercial forces.
Ink is not the goal in itself but a means to achieve the goal of developing a cultural movement that unifies. Come on this journey with us to discover the cultural identity of South Asia. Let us celebrate and embrace it. Let us be proud of it and share it with the world.
Why the name 'Ink'?
~ Ink, in one form or the other, is an integral part of different phases in any and all forms of creativity. Creativity, in turn, is the essence of entertainment. The Ink team therefore, considered it appropriate to name their entertainment based magazine "Ink".
It's more than just a magazine; it's a cause. If there is one unifying glue that the world as a whole can be proud of…this is where culture and entertainment comes in.
Where are the gossip, glitz and glamour you ask? Rest assured its all within Ink's pages. The guilt of associating fun with a cause is so outdated. No need to stand in line with pickets or chant slogans in unison with your fellow activists. The magic of the silver screen, the authenticity of theater, the rhythm and beat of music and the effervescence of the fashion world; these are the banners of change and this is what you'll find within the pages of Ink.